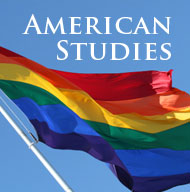 Regulations for Transferring Credit From Other Institutions
No more than 2 transfer credits, (from study abroad or US institutions), may be counted toward the major, except in the case of transfer students. American Studies adheres to the University rule that you must have approval in advance, (at least provisionally), to take any course for which you expect to receive Wesleyan/American Studies transfer credit. If you have received approval to enroll in a particular course and it is necessary to find a substitute, you will need to request approval for the substitute before the class begins.

American Studies majors should seek provisional approval from their major advisors.  Non-majors should apply to the Chair of American Studies by email or fax 860/685-2985.  To receive preliminary approval you must present at least a course description-- preferably a syllabus and/or a required reading list--for the course. Final approval for transfer credit will be given only after the Chair of American Studies receives official verification that the student passed the course.

Transfer credit is generally approved for course work completed at an accredited four-year institution and should be equivalent to a Wesleyan American Studies course. As a rule of thumb the course work you seek transfer credit for should meet the following requirements:  
No fewer than six books or comparable amounts of other reading assigned;
Papers and/or exams involving essay-type questions;
The subject or course content should not be offered by Wesleyan.
If you wish to enroll in a course that does not require as much reading and writing as a Wesleyan course, please discuss this possibility with your advisor. In addition to the course's normal requirements you may, with your advisor's permission, submit additional work or a term paper to approximate a Wesleyan offering.