Curatorial Assistant Program
The Curatorial Assistant Program introduces students to exhibition development, preparation and collection cataloguing, documentation and conservation. Each year the Center Gallery presents an exhibition curated by Curatorial Assistants. Past exhibitions have included "Portrait of Korea: Living Through the Forgotten War" featuring photographs of the daily lives of people during the Korean War, "The Fun History Book of Japan" featuring images from a 1920's album of paintings of Japanese history, "Red Rooster" for the Chinese Ner Year and others. Interested students should contact Patrick Dowdey, the Center Curator at pdowdey@wesleyan.edu.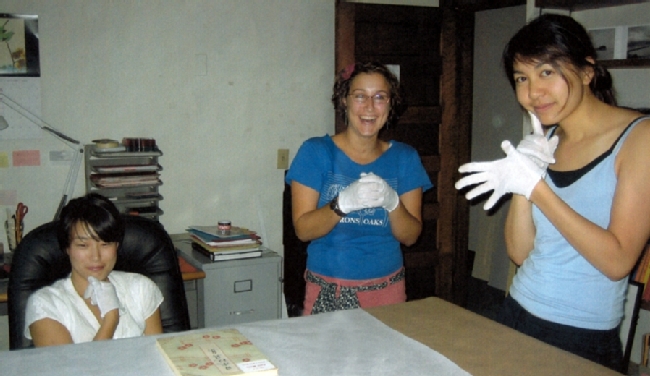 Curatorial assistants Heidi Lee, Hayley Stokar & Liz Khoo preparing exhibition "Famous, Not Famous, Infamous:
Characters from Asian Books at Wesleyan"