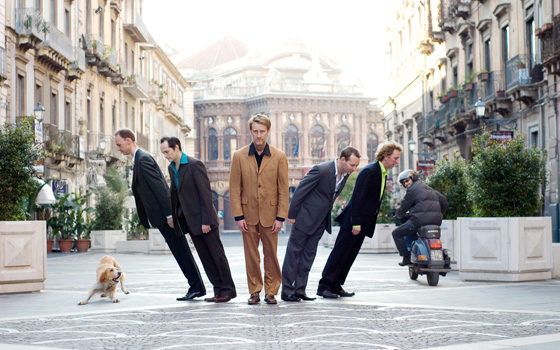 Calefax Reed Quintet
Friday, January 30, 2015 at 8:00 PM
Crowell Concert Hall
Buy Tickets
$22 general public; $19 senior citizens, Wesleyan faculty/staff/alumni, non-Wesleyan students; $6 Wesleyan students
"Calefax—five extremely gifted Dutch gents who almost made the reed quintet seem the best musical format on the planet."
—The Times (London)
There will be a lecture/demonstration by the Calefax Reed Quintet at 4:15pm in Crowell Concert Hall.

Pre-concert talk at 7:15pm by John Spencer Camp Professor of Music Neely Bruce.
Based in Amsterdam, the Calefax Reed Quintet breathes new life into classical chamber music, arranging, recomposing, and interpreting music from eight centuries to suit their unique constellation of oboe, clarinet, sax, bass clarinet, and bassoon. From early music to classical and jazz to world music, it all sounds fresh and new. At Wesleyan, the group will perform their arrangements of works by Johann Sebastian Bach, Johannnes Ockeghem, Christopher Tye, César Franck, and Dmitri Shostakovich.

The ensemble—Oliver Boekhoorn (oboe), Ivar Berix (clarinet), Raaf Hekkema (saxophone), Jelte Althuis (bass clarinet), and Alban Wesly (bassoon)—has won a number of prestigious prizes and can be heard frequently throughout Europe and further afield in Russia, China, India, Turkey, Japan, South Africa, and the United States.
A Crowell Concert Series event presented by the Music Department and the Center for the Arts.

This event is also part of the Performing Arts Series.
A World of Arts in the Heart of Connecticut