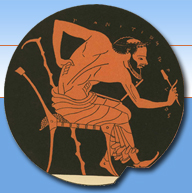 Senior Thesis & Senior Essay
All students majoring in the Department of Classical Studies who intend to write a Senior Thesis are required to submit a thesis proposal to the Department by April 15 of the junior year. Students who wish to write a senior essay should submit their proposal to the Department by the end of the previous semester (April 15 for an essay to be written in the fall semester, November 15 for the spring). 
A successful Senior Thesis or Essay will deal directly with primary sources, in the original language to the extent possible and where appropriate, show knowledge of and critical engagement with current scholarship on the subject, and present an original argument developed in response to these sources.  The topic might grow out of an oral presentation given in a class, a visit to a monument or site during an overseas study program, or a desire to study in greater depth a set of texts already encountered in a classroom setting.
The Senior Thesis or Essay proposal should be a clear and concise statement of the aims and scope of the project. It should include a description of the central topic or the question to be explored, the main primary sources to be considered, and a bibliography of major secondary sources that will be consulted.  The student should also outline the analytical method to be used and any theoretical approaches that may be brought to bear on the topic under consideration.  The proposal should be no more than 2-3pp. in length.  The student must also include in the proposal the name of the faculty member who has agreed to serve as advisor for the thesis.  Students on foreign study programs in the spring of the junior year should identify an advisor as soon as possible to ensure timely submission of their proposal.
Proposals will be considered by the departmental faculty.  If the project is deemed appropriate in scope, depth and sophistication for a senior thesis, it will be approved.  The student will be informed of the faculty's decision by May 1 (or Dec 1 for fall essay submissions).  Appeals of that decision will not be considered, so it is extremely important that students work with a faculty member well in advance of the deadline to develop a suitable project.