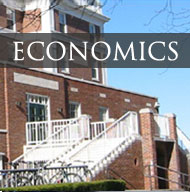 Mathematics-Economics Departmental Honors
Criteria for Candidates for honors in MECO are evaluated on the basis of:
Performance in course work in the major
A written research project
An oral presentation of the research project and its findings. 
Although no rules have been established by the Interdepartmental Program Committee (IPC) for determining the relative weights to be applied to the three considerations, high-caliber performance in one is not sufficient to merit honors by itself. Please direct any questions to your faculty advisor.

A one-to two-page statement of the thesis question must be to be turned in at the Economics Department office by noon on the first Wednesday in October. A student who is not enrolled in an honors thesis tutorial in the fall term must attach a signed note of approval from a tutor who has agreed to work with the student through the entire process. Normally, the tutor will be supervising an honors thesis tutorial in the spring semester.

A three-to five-page Research Prospectus consisting of clear statement of what is to be accomplished, a detailed outline of the research and explanation of the methodology, and a bibliography must be turned in to the Economics office by noon on the first Friday in December.

The candidate will give an oral presentation, summarizing research in progress and outlining the major problems to be resolved in order to bring the research to a successful conclusion, either at an Economics Department session in early December or at another time to be arranged.

An oral presentation to the IPC will be scheduled for sometime in April. At this time, the candidate will summarize briefly the main results of the research and answer questions on this work and on course work in the major. The candidate will be awarded Pass, Honors, or High Honors by the IPC based on the three considerations noted above.

All recipients of Honors or High Honors are obliged to present a brief summary of their work to faculty and students at an Economics Department-sponsored poster session in early May.
 
* For the current year's timetable, please stop by the Economics Office located in the Public Affairs Center, Room 123.