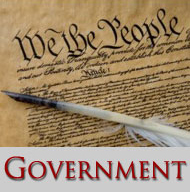 Government Majors Committee, 2016-2017
Name
Class
Email
Armendarez, Carter
2018
carmendarez

Carter Armendarez '18 is a junior Government major, with a concentration in American Politics. He is also pursuing the Social, Cultural, & Critical Theory Certificate. Carter is from Temecula, CA. He is on the wrestling team, and is the social media manager for WesThon.

Dunphy, Peter
2018
pdunphy

I am a Junior Government-American Studies double major from Fairfax, VA, right outside of Washington, DC. I am working towards an American Government concentration, but I have also taken classes in political philosophy and international relations. I have experience working with NGOs and am interested in pursuing a career in law following Wesleyan. This semester, I am studying government and international relations in Havana, Cuba.

Eder, Becky
2018
reder

Becky Eder '18 is a junior double major in French and Government, with a concentration in comparative politics. She is particularly interested in the rise of ethnic nationalism and its influence on African politics. Becky is from Milwaukee, WI. She is President of the Wesleyan Outing Club and Stage Manages for Second Stage. 

Joskow, Melissa
2018
mjoskow

Melissa Joskow '18 is a Junior double major in Government and Studio Art with a minor in Art History. Within the Government major she is concentrating in Political Theory. Melissa is from Arlington, VA, a suburb of Washington, D.C. She is a Drawing 1 ca, volunteers for Kids' Night at the Observatory, and is a co-captain of Throw Culture, Wesleyan's Co-Ed Ultimate Frisbee team.

King, Carly
2018
crking
McCann, Maile
2018
memccann

Maile McCann '18 is a Junior Government and Psychology major with the Civic Engagement Certificate. She is especially interested in the intersection between law and psychology, international political theory, and American foreign policy. Maile is from Colorado Springs, Colorado. 

Sides, Brandon
2018
bsides

Brandon Sides '18 is a junior Government major with a concentration in American Politics. He is especially interested in American foreign policy, constitutional law, and international trade. He is from outside of Boston.

Skopicki, Hannah
2018
hskopicki

Hannah Skopicki '18 is a junior Government major with a concentration in International Politics from Roslyn, New York. She is double majoring in Government and Italian Studies and is currently abroad in Bologna, Italy. Her particular areas of interest include foreign policy and homeland security legislation. She is a founding Editor-in-Chief of Arcadia Political Magazine and a board member of the Wesleyan Republican Committee where she is committed to creating a space for discourse between students of varying political mindsets.

Spittal, Amelia
2018
aspittal

Amelia is a junior Government (with a comparative politics concentration) and Sociology double major from Putnam Valley, NY. She is currently abroad for the Fall '16 semester in Copenhagen, Denmark studying humanitarian law & armed conflict with an emphasis on international refugee law. On campus, she is a writer for The Argus and Arcadia Political Magazine and is an executive board member of Wesleyan Advocates for Gender Equality (WAGE).