EVENTS AND STUDENT NEWS:
HISTORY EVENTS for Spring 2015
HOW TO GO GLOBAL:  ATHANASIUS KIRCHER (1602-80)
BETWEEN ROME AND THE EDGES OF HIS WORLD 
PAULA FINDLEN
Ubaldo Pierotti Professor in Italian History at Stanford University
Few authors could claim to be read around the world in the seventeenth century but the German Jesuit polymath Athanasius Kircher (1602-80) wrote books and exchanged letters that circumnavigated the globe.  This talk explores how Kircher built a long-distance network from Rome, what purposes it served, and how its patterns illuminate the aspirations and constraints of communication at a distance in this crucial phase of European empires, Catholic missions, and mercantile ventures in the early modern world.
Wednesday, March 4, 4:15pm, PAC 001
Sponsored by the History Department, and Center for Global Studies
____________________________________
HISTORY MATTERS
TURNING FAMILIES INTO MEMOIRS:  HISTORY, JOURNALISM, AND MEMORY
Marianne Szegedy-Masak
Monday, April 13, 12:00pm, PAC 002
Co-sponsored with the History Department and the Center for Jewish Studies
_________________________________________
CHARMED LIVES:  HISTORY, FAMILY AND FATE DURING HUNGARY'S HOLOCAUST
Marianne Szegedy-Maszak
Monday, April 13, 8:00pm, PAC 001
Sponsored by the History Department and the Center for Jewish Studies
_______________________________________________
FREEMAN LECTURE
THE HUMAN DOT ON YELLOW MOUTAIN:  RE-THINKING 45 YEARS OF CHINA STUDY
A Lecture in honor of Vera Schwarcz
Thursday, April 16, 8:00pm, Place TBA
________________________________________________________
HOW APARTHEID ENDED:  MANDELA AND THE LAST WHITE LEADERS OF SOUTH AFRICA
Hermann Gillomee
A Lecture in honor of Richard Elphick
Monday, May 4, 6:00pm, Russell House
Co-sponsored by History Department, the Center for the Study of Public Life, and CSS
_________________________________________________________
A RECEPTION IN HONOR OF RICHARD ELPHICK'S RETIREMENT
Tuesday, May 5, 4:15pm, Zelnick Pavilion

Tucker Explores Photography's Powerful Role in Our Legal System
An essay by Associate Professor of History Jennifer Tucker is included in The Five Photographs that (You Didn't Know) Changed Everything, a five-part BBC radio series focusing on historically important yet little-known photographs.
In her segment, The Tichborne Claimant, Tucker tells the story of how an 1866 photograph of a butcher in Wagga Wagga, Australia, played a central role in a case that gripped Victorian Britain and had an enormous impact on our legal system, raising questions about what photography is for and how it should be used. Says Tucker:
"Sometimes even a mundane photograph can have a powerful and lasting historical impact. This is the story of one such photograph—a picture that not only changed the life of the man it showed, but also set in motion the longest and most expensive trial in British legal history, and sparked a national debate over the role of photography as evidence in a court of law."
Tucker is also associate professor of feminist, gender and sexuality studies, associate professor in the environmental studies program, associate professor of science in society, and faculty fellow in the College of the Environment.
Teter's Book Receives Honorable Mention for Jewish Studies Award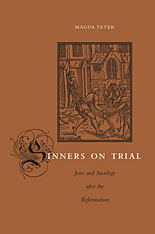 A book by Magda Teter, the Jeremy Zwelling Professor of Jewish Studies, received honorable mention for the 2014 Jordan Schnitzer Book Award. The Schnitzer Book Award was established in 2007 to recognize and promote outstanding scholarship in the field of Jewish Studies and to honor scholars whose work embodies the best in the field: innovative research, excellent writing and sophisticated methodology.
Teter's book, Sinners on Trial: Jews and Sacrilege after the Reformation, published by Harvard University Press in 2011, was honored in the Medieval and Early Modern Jewish History category.
In recognizing her book, the Prize Committee wrote:
"In this beautifully written and richly documented work, Magda Teter traces and convincingly demonstrates the interdependence of economic, religious and political motives that animated Polish anti-Semitism in the early modern period. This book also identifies and elucidates significant factors in the history of their formations in East Central Europe, and in the history of the host-desecration charge in early modern Europe."
In post-Reformation Poland—the largest state in Europe and home to the largest Jewish population in the world—the Catholic Church suffered profound anxiety about its power after the Protestant threat.
In the book, Teter reveals how criminal law became a key tool in the manipulation of the meaning of the sacred and in the effort to legitimize Church authority. The mishandling of sacred symbols was transformed from a sin that could be absolved into a crime that resulted in harsh sentences of mutilation, hanging, decapitation, and, principally, burning at the stake. Recounting dramatic stories of torture, trial, and punishment, this is the first book to consider the sacrilege accusations of the early modern period within the broader context of politics and common crime.
To celebrate the honorable mention, Teter is invited to attend the Jordan Schnitzer Book Award Reception Dec. 14 in Maryland.
Teter also is chair and professor of history, professor of medieval studies. She speaks more about the book and her research in this past News @ Wesleyan article.
By Jennifer Tucker,
Globe Correspondent,
Smolkin-Rothrock on Russia's National Unity Day
Writing in Open Democracy, Victoria Smolkin-Rothrock, assistant professor of history, assistant professor of Russian, Eastern European and Eurasian Studies, offers a historical explanation of Russia's National Unity Day. Observed November 4, this holiday–based in what many consider "ancient history"–remains a point of confusion for the Russian public, writes Smolkin-Rothrock. Yet, "even if the holiday holds little significance for many Russians, it matters a great deal to Vladamir Putin and it should matter to those concerned with understanding his ideology."
Schwarcz Addresses Moral Dilemma, Ethics in China in Colors of Veracity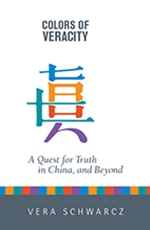 Vera Schwarcz, the Mansfield Freeman Professor of East Asian Studies, professor of history, is the author of a new book titled Colors of Veracity: A Quest for Truth in China, and Beyond, published by the University of Hawai'i Press in November 2014.
In Colors of Veracity, Schwarcz condenses four decades of teaching and scholarship about China to raise fundamental questions about the nature of truth and history. In vivid prose, she addresses contemporary moral dilemmas with a highly personal sense of ethics and aesthetics.
Drawing on classical sources in Hebrew and Chinese (as well as several Greek and Japanese texts), Schwarcz brings deep and varied cultural references to bear on the question of truth and falsehood in human consciousness. The book redefines both the Jewish understanding of emet (a notion of truth that encompasses authenticity) and the Chinese commitment to zhen (a vision of the real that comprises the innermost sincerity of the seeker's heart-mind). Works of art, from contemporary calligraphy and installations to fake Chinese characters and a Jewish menorah from Roman times, shed light light on the historian's task of giving voice to the dread-filled past.
Following in the footsteps of literary scholar Geoffrey Hartman, Schwarcz expands on the "Philomela Project," which calls on historians to find new ways of conveying truth, especially when political authorities are bent on enforcing amnesia of past traumatic events.
Schwarcz, who was born and raised in Cluj, Romania, was one of the first exchange scholars to study in China in 1979 and has returned to Beijing many times since then.
For more information on the book or to order, visit the University of Hawai'i Press website.
Schwarcz will be speaking about her book at 4:15 p.m. Nov. 19 at the Wasch Center. The event is open to the public.
Interview, Paper by Smolkin-Rothrock, Fusso Focuses on Russian Atheist
Wesleyan faculty Victoria Smolkin-Rothrock and Susanne Fusso are the co-authors of "The Confession of an Atheist Who Became a Scholar of Religion," published in Kritika: Explorations in Russian and Eurasian History, Volume 15, Number 3, Summer 2014. The paper is based on an interview Smolkin-Rothrock completed on Russian atheist Nikolai Semenovich Gordienko.
Smolkin-Rothrock is assistant professor of history; assistant professor of Russian, Eastern European and Eurasian Studies; Faculty Fellow Center for the Humanities; and tutor in the College of Social Studies. Fusso is professor of Russian, East European, and Eurasian studies.
Among the most prominent professors of "scientific atheism" in the Soviet Union, Gordienko also was the author of the Foundations of Scientific Atheism textbook and a consultant to the political elite on religious questions. Over the course of his life, he was connected with every institution that managed Soviet spiritual life in both its religious and atheist variants. Read the paper's abstract online here.
Twagira's Paper on Cosmopolitan Workers Published in Gender & History

Laura Ann Twagira, assistant professor of history, is the author of an article titled, "'Robot Farmers' and Cosmopolitan Workers: Technological Masculinity and Agricultural Development in the French Soudan (Mali), 1945–68," published in the November issue of Gender & History, Volume 26, Issue 3, pages 459-477.
In 1956, Administrator Ancian, a French government official, suggested in a confidential report that one of the most ambitious agricultural schemes in French West Africa, the Office du Niger, had been misguided in its planning to produce only a 'robot farmer'. The robot metaphor was drawn from the intense association between the project and technology. However, it was a critical analogy suggesting alienation. By using the word 'robot', Ancian implied that, rather than developing the project with the economic and social needs of the individual farmer in mind, the colonial Office du Niger was designed so that indistinguishable labourers would follow the dictates of a strictly regulated agricultural calendar. In effect, farmers were meant simply to become part of a larger agricultural machine, albeit a machine of French design. Read the full article, online here.
History Department Thesis Colloquiums will be held in PAC, Room 136, starting at 4:15pm on the following dates:  10/22, 10/23, 10/29. 10/30, 11/5, 11/6, 11/12, 11/13, 12/3.  You may refer to the calendar of events for details at Wesleyan Events Calendar.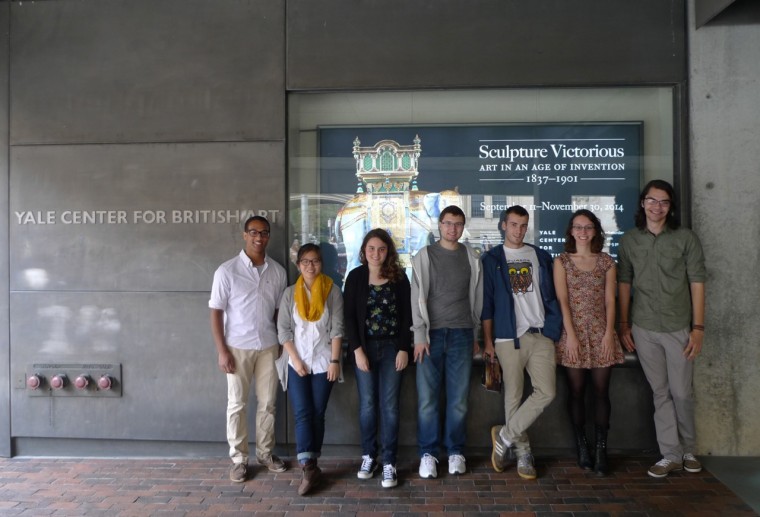 Students Honored For Academic Achievement with Awards, Fellowships
Wesleyan hosted the Academic Scholarships, Fellowships and Prizes Reception for students May 7 in Daniel family Commons.
"We gather today to honor students who represent the highest ideals of Wesleyan University―intellectual curiosity, academic excellence, creative expression, leadership, and service. While celebrating these recipients of awards, prizes, and scholarships, we also honor and thank alumni and friends whose generous contributions make these prizes possible," said Ruth Striegel Weissman, provost and vice president for academic affairs.