EVENTS AND STUDENT NEWS:
Lunch talk sponsored by the History Department
Da'ash (ISIS, ISIL, Islamic State)
Where did it come from?
Where might it be going?
The emergence last year of the movement known as Da'ash in Arabic seemingly caught most governments in the Middle East, and outside as well, off-guard both with its ferocity and its ability to capture quickly a broad stretch of territory in Syria and Iraq. But the organization is the outgrowth of several developments in the Arab World over the last 30 years: the growth of jihadi tourism after the Soviet invasion of Afghanistan in 1979, the US invasion of Iraq in 2003, the intensification of the sectarian rivalry between Iran and Saudi Arabia, and the ongoing Syrian civil war.
Professor Bruce Masters will give a brief historical background of the movement and discuss possible ways in which it might be countered.
Tuesday, October 28, 12-NOON, PAC 001
Light lunch will be available
History Department Thesis Colloquiums will be held in PAC, Room 136, starting at 4:15pm on the following dates:  10/22, 10/23, 10/29. 10/30, 11/5, 11/6, 11/12, 11/13, 12/3.  You may refer to the calendar of events for details at Wesleyan Events Calendar.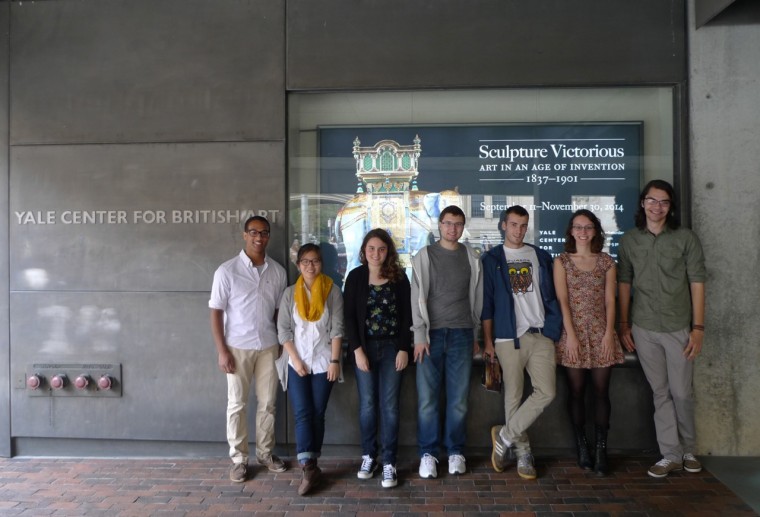 Students Honored For Academic Achievement with Awards, Fellowships
Wesleyan hosted the Academic Scholarships, Fellowships and Prizes Reception for students May 7 in Daniel family Commons.
"We gather today to honor students who represent the highest ideals of Wesleyan University―intellectual curiosity, academic excellence, creative expression, leadership, and service. While celebrating these recipients of awards, prizes, and scholarships, we also honor and thank alumni and friends whose generous contributions make these prizes possible," said Ruth Striegel Weissman, provost and vice president for academic affairs.
HISTORY EVENTS for FALL 2014
Tuesday, October 28,
12:00 noon, PAC 001;
History Matters
Professor Bruce Master; "Understanding Isis."  Join us for another lunch talk focused on history and current events. Professor Bruce Masters from the History Department will provide a historical perspective for understanding ISIS and the current events in the Middle East. A light lunch will be served.
October 22, 2014, 4:15pm, Wyllis 112; History Matters: Stephen Berry, "CSI Dixie: Death Investigation and the Civil War Era South."
November 4, 2014, PAC 001, 12-NOON; History Matters: Glenn Lunden '83 "History Track / Career Track / Railroad Track.  "Glenn Lunden, the current Senior Director for Subway Schedules at the NYC Transit Authority, will discuss how and why History Major prepared him for the career in NYC Transit Authority.  Lunch will be served.
November 13th, 2014, 12-NOON, CSS Lounge, PAC; History Department OPEN HOUSE!
A chance to meet history majors and faculty, and to learn more about the exciting changes in the history major.
Pizza and refreshments served, courtesy of the History Department. Spread the word!
November 18th, 2014, 8:00pm, Venue TBA; Lorena Rizzo of Bielefeld University, "An-aesthetics of the prison. The Breakwater prison albums in Cape Town, 1890s to 1900s."