EVENTS AND STUDENT NEWS:
Smolkin-Rothrock on Russia's National Unity Day
Writing in Open Democracy, Victoria Smolkin-Rothrock, assistant professor of history, assistant professor of Russian, Eastern European and Eurasian Studies, offers a historical explanation of Russia's National Unity Day. Observed November 4, this holiday–based in what many consider "ancient history"–remains a point of confusion for the Russian public, writes Smolkin-Rothrock. Yet, "even if the holiday holds little significance for many Russians, it matters a great deal to Vladamir Putin and it should matter to those concerned with understanding his ideology."
Schwarcz Addresses Moral Dilemma, Ethics in China in Colors of Veracity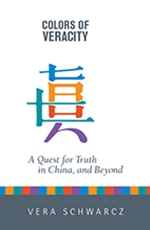 Vera Schwarcz, the Mansfield Freeman Professor of East Asian Studies, professor of history, is the author of a new book titled Colors of Veracity: A Quest for Truth in China, and Beyond, published by the University of Hawai'i Press in November 2014.
In Colors of Veracity, Schwarcz condenses four decades of teaching and scholarship about China to raise fundamental questions about the nature of truth and history. In vivid prose, she addresses contemporary moral dilemmas with a highly personal sense of ethics and aesthetics.
Drawing on classical sources in Hebrew and Chinese (as well as several Greek and Japanese texts), Schwarcz brings deep and varied cultural references to bear on the question of truth and falsehood in human consciousness. The book redefines both the Jewish understanding of emet (a notion of truth that encompasses authenticity) and the Chinese commitment to zhen (a vision of the real that comprises the innermost sincerity of the seeker's heart-mind). Works of art, from contemporary calligraphy and installations to fake Chinese characters and a Jewish menorah from Roman times, shed light light on the historian's task of giving voice to the dread-filled past.
Following in the footsteps of literary scholar Geoffrey Hartman, Schwarcz expands on the "Philomela Project," which calls on historians to find new ways of conveying truth, especially when political authorities are bent on enforcing amnesia of past traumatic events.
Schwarcz, who was born and raised in Cluj, Romania, was one of the first exchange scholars to study in China in 1979 and has returned to Beijing many times since then.
For more information on the book or to order, visit the University of Hawai'i Press website.
Schwarcz will be speaking about her book at 4:15 p.m. Nov. 19 at the Wasch Center. The event is open to the public.
Interview, Paper by Smolkin-Rothrock, Fusso Focuses on Russian Atheist
Wesleyan faculty Victoria Smolkin-Rothrock and Susanne Fusso are the co-authors of "The Confession of an Atheist Who Became a Scholar of Religion," published in Kritika: Explorations in Russian and Eurasian History, Volume 15, Number 3, Summer 2014. The paper is based on an interview Smolkin-Rothrock completed on Russian atheist Nikolai Semenovich Gordienko.
Smolkin-Rothrock is assistant professor of history; assistant professor of Russian, Eastern European and Eurasian Studies; Faculty Fellow Center for the Humanities; and tutor in the College of Social Studies. Fusso is professor of Russian, East European, and Eurasian studies.
Among the most prominent professors of "scientific atheism" in the Soviet Union, Gordienko also was the author of the Foundations of Scientific Atheism textbook and a consultant to the political elite on religious questions. Over the course of his life, he was connected with every institution that managed Soviet spiritual life in both its religious and atheist variants. Read the paper's abstract online here.
Twagira's Paper on Cosmopolitan Workers Published in Gender & History

Laura Ann Twagira, assistant professor of history, is the author of an article titled, "'Robot Farmers' and Cosmopolitan Workers: Technological Masculinity and Agricultural Development in the French Soudan (Mali), 1945–68," published in the November issue of Gender & History, Volume 26, Issue 3, pages 459-477.
In 1956, Administrator Ancian, a French government official, suggested in a confidential report that one of the most ambitious agricultural schemes in French West Africa, the Office du Niger, had been misguided in its planning to produce only a 'robot farmer'. The robot metaphor was drawn from the intense association between the project and technology. However, it was a critical analogy suggesting alienation. By using the word 'robot', Ancian implied that, rather than developing the project with the economic and social needs of the individual farmer in mind, the colonial Office du Niger was designed so that indistinguishable labourers would follow the dictates of a strictly regulated agricultural calendar. In effect, farmers were meant simply to become part of a larger agricultural machine, albeit a machine of French design. Read the full article, online here.
History Department Thesis Colloquiums will be held in PAC, Room 136, starting at 4:15pm on the following dates:  10/22, 10/23, 10/29. 10/30, 11/5, 11/6, 11/12, 11/13, 12/3.  You may refer to the calendar of events for details at Wesleyan Events Calendar.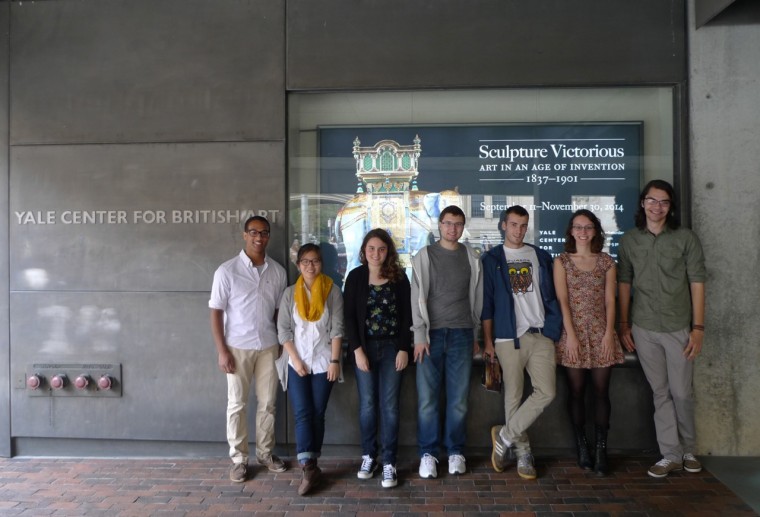 Students Honored For Academic Achievement with Awards, Fellowships
Wesleyan hosted the Academic Scholarships, Fellowships and Prizes Reception for students May 7 in Daniel family Commons.
"We gather today to honor students who represent the highest ideals of Wesleyan University―intellectual curiosity, academic excellence, creative expression, leadership, and service. While celebrating these recipients of awards, prizes, and scholarships, we also honor and thank alumni and friends whose generous contributions make these prizes possible," said Ruth Striegel Weissman, provost and vice president for academic affairs.
HISTORY EVENTS for FALL 2014
Interested in History?
Considering a History Major or a History Minor?


Come to the History Open House!
Meet students and faculty, and discuss potential careers
and…
Enjoy a pizza lunch!
November 13th, 2014, 12-NOON, CSS Lounge, PAC
An-aesthetics of the Prison
The Breakwater Prison Albums in Cape Town, 1890s to 1900s
Dr. Lorena Rizzo
University of Bielefeld