Summer 2012
GLS Student and Alumni Exhibit
To kick off the GLS 60th Anniversary year, students and alumni were invited to submit works of visual art to a gallery show held at Davison Art Center on August 2, 2012. Featured artists Shelley Kawai and Katie Pugliese finished the MALS program in May 2012, and presented work finished in completion of the degree. Below is the catalog of the show. All images are the sole property of the artist listed.
Nancy O. Albert MALS '94 
Chester, SC photograph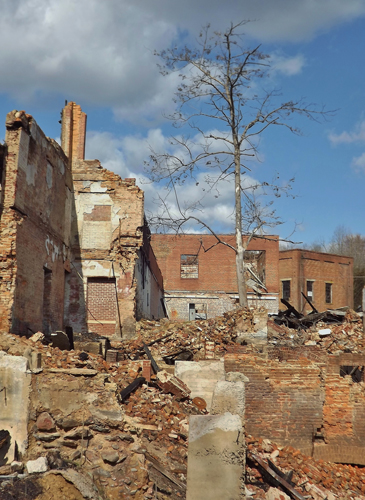 For more than 20 years I worked in black and white, using a medium format film camera. After I left Middletown and moved to Charlotte, I began an exploration of southern vernacular architecture and started working with digital color.
Chester, SC was bypassed by the interstate; the mills closed and its downtown remains frozen in time.
Splendid Ruin photograph 

The Franklinville Manufacturing Co, near Asheboro, NC, was built in 1838, making it one of the earliest textile mills in the state. I came across it, long empty and partially burned, on a beautilful March day.
Matthew Bennett MALS '12, Current MPhil Student
Woman in Veil woodblock print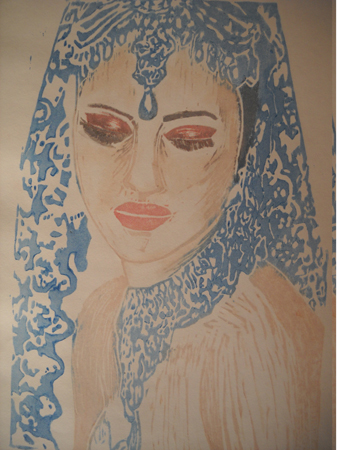 The Stairway woodblock print


Roslyn Carrier-Brault, current MALS student
Time and tide wait for no man  photograph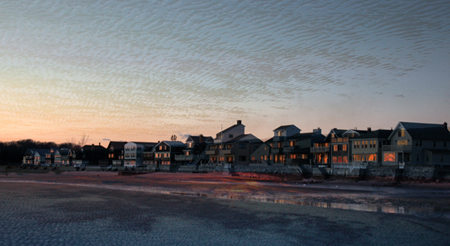 This image is part of a larger body of work entitled, "Count Your Blessings: A Vision of Hope," an ongoing photographic project that was started in 2012, in support of cancer survivorship.
Without Love, I am Nothing photograph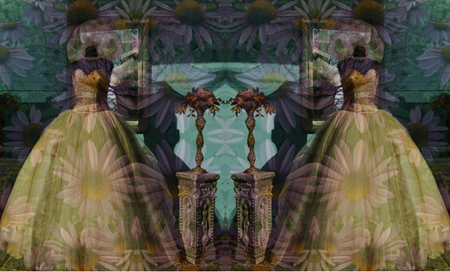 This is a digitally blended photograph that is is a part of a larger body of work entitled, "Count Your Blessings: A Vision of Hope," an ongoing photographic series started in 2012, in support of cancer survivorship.
Kim Deale MALS '90
Bill T. Jones (Red) Hand painted black and white photograph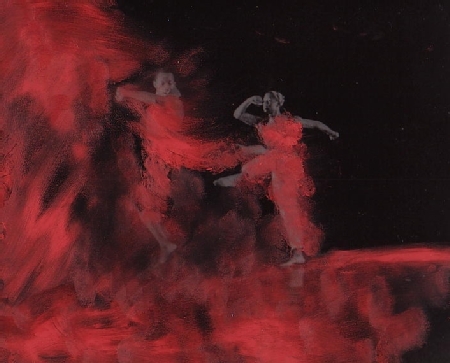 Kim Deale completed the MALS program in 1990 with a concentration in movement studies.  This is photograph was taken at a performance at Wesleyan University during Kim's attendance in the program. 
Martha Graham Dancers (Orange) Hand painted black and white photograph

"Martha Graham Dancers (Onstage)" is a photograph I took from a performance of the company at the Alabama Theater in Birmingham, AL. 
Olivia Drake MALS '08
The Park People of Haddam Meadows photo book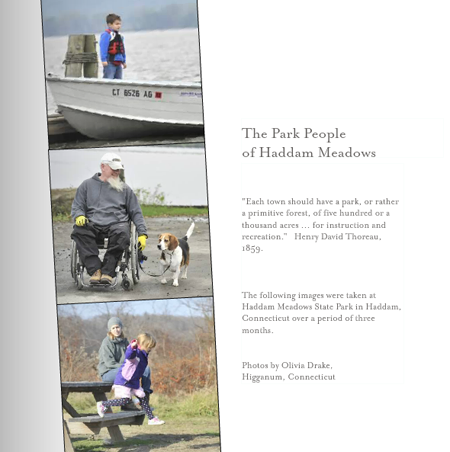 Olivia Drake is a 2008 graduate of the Graduate Liberal Studies program and she continues to take photography classes. The book, "The Park People of Haddam Meadows," is a project completed for the ARTS 624: Connecticut State Parks course in 2011. For this photo essay, Olivia documented how people utilize the state park for dog walking, jogging, fishing, boating, biking and other uses. 
Champion Mine No. 6, Painesdale, Michigan photograph
IMAGE UNAVAILABLE
The man-altered landscape of the copper mining industry was a prominent theme of my work as a GLS student in 2006-2008. 
Howard el-Yasin MALS '11
Layered Weight 1 Monoprint
IMAGE UNAVAILABLE 
This monoprint was built with multiple layers of inking on a plexiglass plate, and repositioning on the plate of an African (lost-wax casting) brass weight. 
Richard Friswell current MPhil student
Flight Lithograph/Giclee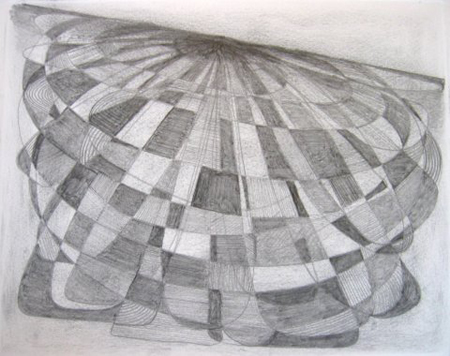 Nest Lithograph/Giclee
IMAGE UNAVAILABLE
Mary Tredennick Gould CAS '83
Going Out Of My Head welded steel
IMAGE UNAVAILABLE

Mary Tredennick Gould, formerly an art teacher in Meriden and Wallingford, earned a CAS in 1983 in Studio Art and Movement Studies.
Shelley Kawai MALS '12
Self-Portrait mixed media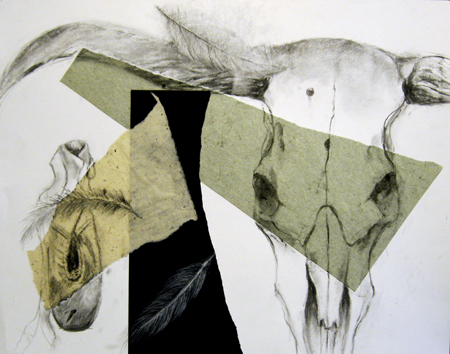 This "self-portrait" symbolizes my love for nature, dance and art.
Threatened charcoal & conte crayon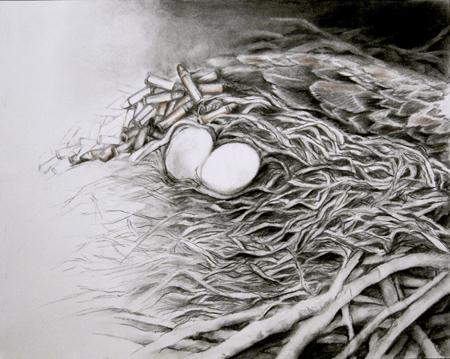 With the protection of the Endangered Species Act and the banning of DDT, the bald eagle has officially come off the endangered species list. However, they are now threatened by lead poisoning from ingesting lead bullet fragments left in carcasses of deer and other wildlife.
Elusive mixed media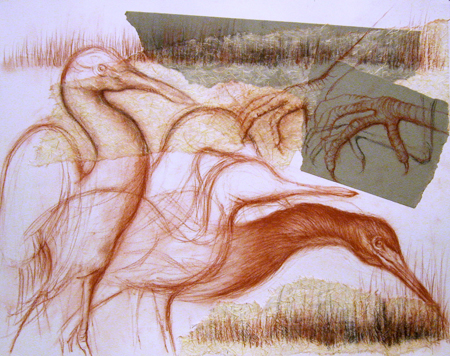 Birds are elusive, but when I had a chance to see a relatively rare (in this area) tricolored heron in the field, I was fascinated by the jutting action of its long neck as it fed in the shallow marshes.
Shallows mixed media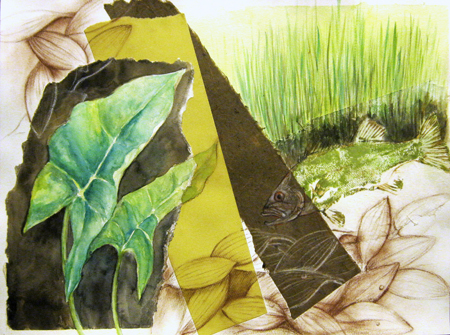 While paddling along the shallows and slow-flowing areas of the Connecticut River, I discovered a whole world of submerged and floating plants that I had never seen before. The overlapping shapes and lines provide layers of natural textures.
Mantle mixed media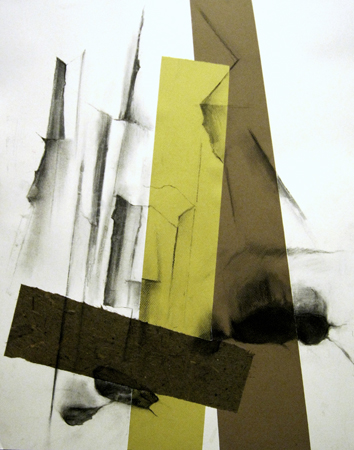 This drawing was inspired by an outcrop of basalt, a volcanic rock that was forced up out of the earth's mantle over 200 million years ago, near Meriden, CT. The lower portion of the drawing references marble formations, also formed hundreds of millions of years ago in northwestern Connecticut.
Seeing mixed media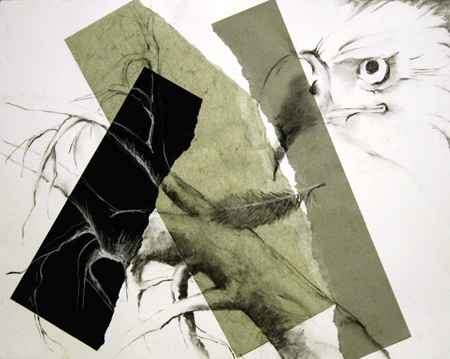 I was awestruck when I first observed a family of bald eagles flying overhead as I kayaked down the Connecticut River during a class field trip in the summer of 2009. Since then, I have come to appreciate these majestic creatures and the lessons they teach me about art, science and life.
Katia Porter current GLS student
Here By Night color giclée print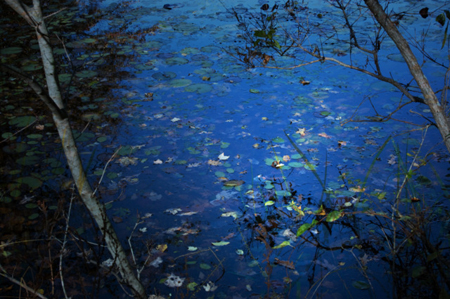 This work is a digital double exposure created from two photographs I made at Gillette Castle State Park last fall, and submitted as part of Marion Belanger's CT State Parks photography class. The piece was subsequently shown at the Art League of New Britain's Annual Photography Juried Show in December 2011.
Katie Pugliese MALS '12
Industrial Shadows - Photo Series Artist's Statement
These photographs are part of a larger series that explored the history and the current state of Naugatuck's and Waterbury's industrial giants.  This project chronicled the remarkable transformation of these mammoth structures from economic powerhouses to shells of brick and glass and even empty lots.  A combination of mergers, competition, decline in demand and outsourcing forced these factories to close their doors.  During their prime, these facilities manufactured amazing amounts of rubber, brass, copper and even candy.  Many are now ghostly relics of the past, too expensive to tear down and too expensive to revitalize.  Some were torn down years ago and have been replaced by empty, overgrown lots, retail outlets or parking areas. 
The featured photographs all show the former Chase Brass and Copper facility in Waterbury.  This company was a true giant in the 20th Century that employed thousands of people and played a key role in America's defense during World War II by producing more than 50 million cartridge cases, mortar shells, over a billion small caliber bullets, and even some components of the atomic bomb.  At one point early in the century, the Naugatuck River was actually re-routed to the west to accommodate a mile long expansion of the huge facility. 
Headquarters for the Chase Brass and Copper Company moved to Cleveland, Ohio in 1962.  In 1976, the company closed its last remaining Waterbury factory.  These images were photographed in February and March of 2012.  Some of the buildings captured have already been deconstructed and are no longer standing.  Demolition plans are currently being developed for the remaining buildings.  This project attempts to put a face on the decline of manufacturing and the changing economic landscape in America.  
Industrial Shadows - Print 1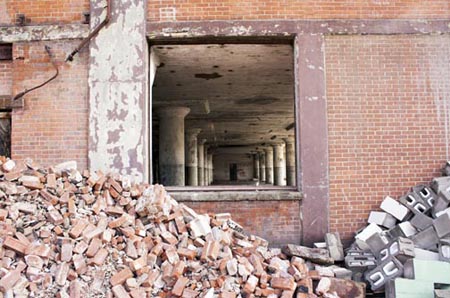 Industrial Shadows - Print 2

Industrial Shadows - Print 3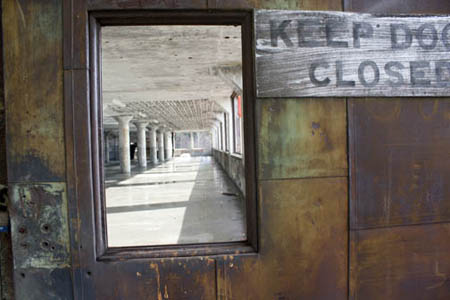 Industrial Shadows - Print 4
Industrial Shadows - Print 5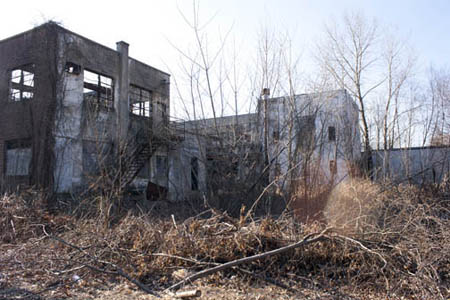 Industrial Shadows - Print 6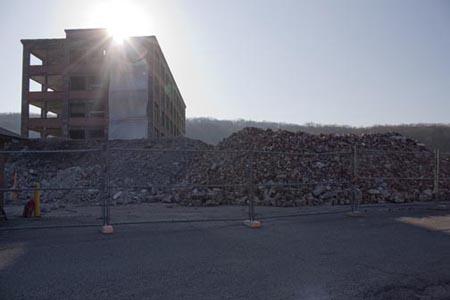 Greg Roberts MALS '10
Greg Roberts is a photographer working in Hartford, CT.
Smoking photograph
IMAGE UNAVAILABLE
Taking a break during the clean up of a fire ravaged condo this photo shows the damage and the beauty at the same time.
Cat photograph
IMAGE UNAVAILABLE 
"Cat" is a photo of what had been there prior to the fire.
Kiran Zaman current MALS student
Four Seasons in One Day acrylic on canvas