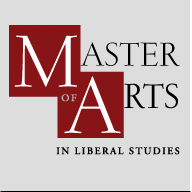 UPCOMING EVENTS:
New Student Orientation
Sunday, January 29, 2012

9:00 AM- 3:30 PM

This program is mandatory for new Graduate Liberal Studies students. If you're interested in attending but are not a new student, please contact our office no later than 12 Noon on January 17th at (860) 685-3345 or sripa@wesleyan.edu. We look forward to seeing you at Orientation!


Orientation Schedule:
Time

Activity

9:00 AM – 9:10 AM

Welcome, Introductions and Coffee

9:10 AM – 9:30 AM

Campus Tour, Part 1

9:30 AM - 12:15 PM

 

Writing and Research Workshop

Reference Librarians Diane Klare and Kendall Hobbs will partner with Writing Consultant Elizabeth Bobrick to give you the essential tools needed for beginning in the Graduate Liberal Studies Program. The team will cover the processes of idea development, organization of writing, research and writing time management and research resources. Academic expectations, styles and assignment types will also be discussed.

12:30 PM – 1:30 PM

Lunch

1:30 PM – 2:00 PM

Campus Tour, Part 2

Wesleyan is your school now! This second half of the campus tour will introduce you to classroom locations and the many resources that are available to you as a GLS student.

2:00 PM – 3:00 PM

GLS Program Information Session

Moodle, Portfolio, Registration, Withdrawal, Concentrations, Wesleyan Email…. There are so many things to know about Graduate Liberal Studies. This presentation will give you the pertinent information to prepare you for participation.

3:00 PM – 3:30 PM

Library Tour and Wrap-Up
GLS Network Wesleyan Hockey Weekend
NOTE: All games are home games, and will take place at the
Spurrier-Snyder Rink at Freeman Athletic Center. Click here for directions.
Friday, February 3rd
7 PM


Wes Women vs. Hamilton               

Saturday, February 4th
7 PM
Wes Men vs. Middlebury

Sunday, February 5th
3 PM (bring the kids!)
Wes Men vs. Williams

You don't need to be a hockey fan to attend one or all of the games during the GLS Network Hockey Weekend, you just need to be (or know!) a past, present, or future member of the Graduate Liberal Studies Program. Games to be followed by pub meet-up. RSVP to masters@wesleyan.edu for more details, or simply join us at the game!

Alumni Book Club
Great House by Nicole Krauss
February 28, 2012
7:00 pm to 8:30 pm
More information here.
SPECIAL!
GLS Open House for Wesleyan Seniors
February 29, 2012 
6:00pm
Usdan Campus Center, Room 110
Wyllys Avenue
Middletown, CT

Current Wesleyan undergraduates, particularly seniors, are invited to learn more about the great opportunities that await them by choosing Wesleyan for continued study. If you loved doing your undergraduate degree at Wes, and are hungry for more, why not consider the Master of Arts in Liberal Studies as your next step? Small classes with your favorite faculty, evening classes so that you can begin career and your graduate study simulataneously if you choose, and rolling admission for both course registration and degree candidacy. Undergraduates who cannot attend the Open House are always welcome to make an appointment and stop by our office at 74 Wyllys Avenue to get more information.


Alumni Book Club
Midnight's Children by Salman Rushdie
March 27, 2012
7:00 pm to 8:30 pm
More information here.
Prospective Student Open House
April 4, 2012
6:00pm
Usdan Campus Center, Room 110
Wyllys Avenue
Middletown, CT

Learn more about the Wesleyan University Graduate Liberal Studies Program at our Open House! Meet with Admissions staff, hear more about the program's curriculum and requirements, and get a glimpse of what it's like to be a GLS student. Graduate Liberal Studies at Wesleyan reconnects you with the joy of learning in small classes taught by Wesleyan's exceptional faculty. Students are invited to pursue an M.A. in Liberal Studies, a 6th-year Certificate of Advanced Study, or take classes for personal enrichment. Courses in arts, humanities, mathematics, sciences, and social sciences are offered in fall and spring (evenings and immersion options), and in summer (daytime and immersion options). Visit www.wesleyan.edu/masters for more information about the program or www.wesleyan.edu/openhouse to find out more about the open house. Can't make the open house but want more information? Call us at (860) 685-2900 or email masters@wesleyan.edu to learn more.
Alumni Book Club
A Farewell to Arms by Ernest Hemingway
April 24, 2012
7:00 pm to 8:30 pm
More information here.
Commencement
May 27, 2012
11:00 AM
Celebrate the accomplishments of our Graduate Liberal Studies students who have earned their Master of Arts in Liberal Studies degrees and Certificates of Advanced Study. Students receiving their degrees must RSVP to receive complete information regarding the Commencement Ceremony.