Now you can access Wesleyan on the go!
Are you on a mobile device? Click here to view it now! Add it to your homescreen or bookmark it for quick access.
The Wesleyan Mobile Website is designed to provide you with up-to-date Wesleyan campus information at your finger tips.  
Visiting the Wesleyan home page on an iPhone, Android or Blackberry Torch device will give you the option of viewing our full website, or viewing the mobile version. Simply click on the red bar at the top of the page. iPads can view both the full university website by going directly to www.wesleyan.edu, or view the mobile version, by typing in m.wesleyan.edu in their Safari's browser address bar. The Wesleyan Mobile Website includes information on Wesleyan News, Campus Events, Contact Information and more.  
Stay connected on any device!
The latest version of the Wesleyan Mobile Website now includes direct links to Wesleyan Athletics content. Athletic Department Information includes: Contest Results, Schedules, Athletics News, Team Pages, Roster information, Directions to Sports Facilities, and much more!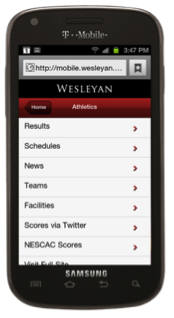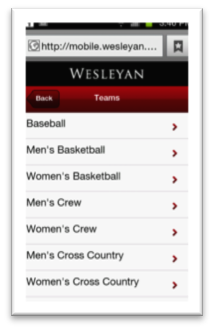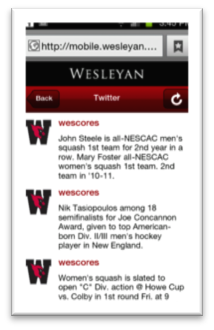 More Mobile Apps
Learn more about other mobile apps that Wesleyan has to offer below.
New for 2013! The Wesleyan Walking Tour Mobile App

New to Wesleyan? If you cannot join us on campus to take a tour in person, we have an app for that! Take a virtual stroll around campus with relevant information and student stories at each stop to bring a bit of Wesleyan to wherever you are. To take the tour, type m.wesleyan.edu/walkingtour into your mobile device's browser. The tour is also compatible with Google Chrome on your desktop or mobile device!

  

Wesleyan Event Mobile Apps

Depending on the time of year you are visiting Wesleyan, look for our event-specific mobile web applications to easily look up scheduled events, connect to Wesleyan social media portals like Facebook and Twitter, and get up-to-the-minute sports scores and news stories. Up next, Wesleyan's Homecoming Family Weekend! Visit m.wesleyan.edu/hcfw on your device to view the app!

  

Alumni Mobile App

We're thrilled to announce that the Alumni Mobile App is now available.Download the app now for iOS and Android. Stay up-to-date by joining the mailing list. Please send feedback to wesconnect@wesleyan.edu.

The Alumni Mobile App provides you with fast and easy access to Wesleyan's Alumni Directory from your phone or tablet. Easily locate alumni near you using the map, or search by city, name, company, school, class year, sport or fraternity. Email or call directly from the app. Connect your LinkedIn account and see LinkedIn data on profiles as you browse the directory. Send information updates for yourself and others to Wesleyan.

Learn more here.