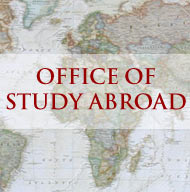 About Us
In an increasingly interdependent world, understanding of other societies is an essential aspect of one's education; through the opportunity to study in another country, culture, and language, Wesleyan offers its students access to a wealth of knowledge and experience that can enrich the personal, academic, and professional lives of participants. Wesleyan students seem to recognize this instinctively: almost fifty percent of our students spend a semester or year abroad, earning credit toward their Wesleyan degrees through some 150 academic programs in nearly fifty countries.
OIS Interim Director Antonio Gonzalez, Assistant Director Gail Winter, and Administrative Assistant Jennifer Collingwood, with the help of a crew of work-study students (all former  participants), help you negotiate the world of study abroad from program selection to re-entry. Throughout the year, we advise students (and parents), provide information on specific programs, share evaluations written by returned Wesleyan participants, and process paperwork for all aspects of study abroad during the academic year, as well as for study away on Wesleyan-sponsored domestic programs. We have daily drop-in hours, offer occasional information sessions throughout  the year, and happily make appointments for individual assistance.

Antonio Gonzalez


Gail Winter


 CONTACT INFORMATION:

 DROP-IN HOUR

 

Note: please contact  jcollingwood@wesleyan.edu 

if you find a bad link or outdated information anywhere on the OIS website. Thanks!