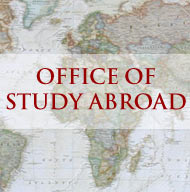 Your Host Country
Preparing for study abroad – really doing it well, so that the experience can be as substantive and meaningful and fun as possible – takes some effort. In addition to selecting a program, talking to returnees from that program, and choosing courses that will teach you about the location, it's wise to do some investigating on your own. Here are a few suggestions for ways to do that:
Read local newspapers, journals, and news: Local newspapers and news magazines are often available online or through Olin Library. In addition to the New York Times and other US and local sources of news, you may want to make a habit of reviewing other sources of record, such as the BBC. By the time you get there, you should understand the basics of that country's political system, the major players in that system, and important current events and issues.
Ask faculty, returned study-abroaders, and international students to suggested books, articles, and films about the country. Focus on contemporary history, fiction, and books that deal with contemporary social issues. Click here for a very partial list of books, films, and other sources of information about countries with programs on Wesleyan's list of approved programs abroad.
Tour books are an essential source of basic information, from weather and currency to brief histories of important regions, from national holidays to museum hours and costs. Several good series (Let's Go and The Rough Guide are just two examples) are written with the budget traveler/university student in mind. You can download much information from online, but sometimes it's nice to have the actual book in your hand, especially if you'll be traveling within the country. While you may be able to buy tour books onsite, they may be more expensive, and having them before you go gives you a chance to familiarize yourself with key concepts and get psyched.
The US State Department and similar government agencies offer important information on safety, health, and other relevant conditions through their websites. In addition to the US State Department postings, we generally recommend that students read the Canadian and British counterparts to get a broader view. In addition, it's wise to consult the websites of the World Health Organization and/or the US Center for Disease Control and Prevention.
Useful Links
US Network for Education Information
Alliance for Educational and Cultural Exchange