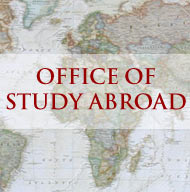 Preparatory Courses at Wesleyan
As you consider spending a semester or year abroad, it's a great idea to select courses at Wesleyan that will prepare you for the time you may spend in another country. You also will want to be sure you've arranged your four-year schedule to fit in all courses required for your major(s), and figured out when will be the best time for you to go; most Wesleyan students go for either the fall or spring semester of junior year, but some go as second-semester sophomores or first-semester seniors, and those who are "off-track" (finishing mid-year) may choose to spend that final semester abroad. 
There are several ways of finding relevant courses to prepare you for your academic experience abroad. 
1. If you're interested in going to a country whose language is taught at Wesleyan, take the language courses. Even after you've reached the level required for your program, it's a good idea to keep going, both because language skills atrophy when they're not used and because the more you know about the country, language, and culture, the more deeply you'll be able to delve into it once there.
Useful Language Links:
Joint National Committee for Languages and the National Council for Languages and International Studies 
Center for Advanced Research on Language Acquisition
National Association of Self-Instructional Language Programs
Wesleyan Language Resource Center
2. Area studies courses are essential to understanding the historical, political, economic, social, and cultural context of your host country. Some such courses can be identified through course clusters, which you can find on WesMaps.  Others are in programs like East Asian Studies or Latin American Studies; a third group can be found by reading through departmental course listings. In the lattermost case, cast a wide net: in addition to departments like history, government, or anthropology, remember to consider departments like music, earth & environmental science, religion, art history, and so on.
3. Some courses, while not specifically about a particular country or region, will give you the opportunity to write papers or read books or articles about the location you have chosen. As you're selecting courses, review syllabi for books written by non-US authors, ask professors about directing your papers for the course toward a topic relevant to your intended country of study, and consider the importance of a broad understanding of the topic at hand – be it public health, migration, philosophy, or current scientific research – to your understanding of the host country.