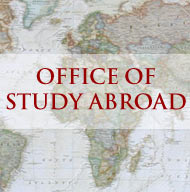 Deciding to Study Abroad
So you're thinking of spending a semester or year studying in another country. Maybe you've been dreaming of this chance for years, or maybe listening to friends make plans has led you to consider it for the first time. In deciding, you will need to weigh the benefits (among other things, exposure to another culture, increased knowledge of both yourself and the world, a chance to study your fields of interest from a different perspective, the opportunity to develop or improve your fluency in another language, perhaps the experience of fieldwork and/or thesis research, and of course seeing the world, making new friends, and having a great time) against the trade-offs (being away from Wesleyan friends, family, and the familiar, the chance to take courses or do research with favorite professors or to participate in sports or the arts on campus, and the anxiety of being in a different milieu with different norms).
There are lots of resources to help you figure out whether this experience is something you want, and how to choose among the many program options. Perhaps the most obvious resource is the staff at the Office of Study Abroad. We have drop-in hours every weekday (MWF 10:00 am – noon; TTh 2:00 – 4:00 pm) and can also see you by appointment to talk about the pros and cons, as well as the logistics, of study in another country. The OSA also makes available program evaluations written by Wesleyan students who have returned from study abroad – an invaluable source of insight and inspiration, and a big help in selecting a program, We can give you contact information for returnees from the programs that interest you so you can ask specific questions about everything from academics to cost of living to food and social life. Programs have their own websites, to which you can link from this one. And don't forget to speak with family, friends, and faculty members about your interests and your concerns regarding study abroad.