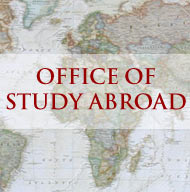 Medical Information
Medical Information Links
Travel Health Clinic Locator 
           www.internationalvaccines.com
Students Abroad 
           http://www.studentsabroad.state.gov/
CDC Update: Avian Flu 
           http://wwwn.cdc.gov/travel/contentAvianFluAmericansAbroad.aspx
Travelers Vaccines:
           http://www.travelersvaccines.com
World Health Organization
           http://www.who.int
Center for Disease Control and Prevention
          http://www.cdc.gov/travel
US Department of State Travel Information
          http://www.state.gov/travel
Safety Abroad First-- Education Travel Information (SAFETI) Clearinghouse
           http://www.globaled.us/safeti/
 
American College Health Association
           http://www.acha.org
International Association for Medical Assistance to Travelers
           http://www.iamat.org
 
Public Health Foundation
           http://www.phf.org 
Good Practices: Health and Safety When Studying Abroad
You can have a major impact on your own health and safety abroad through decisions you make before/during your program, and through day-to-day choices and behaviors. Here's how:
A. Assume responsibility for all elements of your preparation for the program. Participate fully in orientations.
B. Read and carefully consider all sponsor-issued materials relating to safety, health, legal, environmental, political, cultural, and religious conditions in the host country.
C. Conduct your own research on the country you plan to visit with particular emphasis on health and safety concerns, as well as the social, cultural, and political situations.
D. Consider your physical and mental health, and other personal circumstances when applying for or accepting a place in a program, and make available to the sponsor accurate and complete physical and mental health information and any other personal data that is necessary in planning for a safe and healthy study abroad experience.
E. Obtain and maintain appropriate insurance coverage and abide by any conditions imposed by the carriers.
F. Tell parents/guardians/relevant others about your participation in the program, give them emergency contact info, and keep them apprised of your whereabouts and activities.
G. Understand and comply with the program's terms of participation, codes of conduct, and emergency procedures.
H. Be aware of local conditions and customs that may present health or safety risks when making daily choices and decisions. Promptly express any health or safety concerns to program staff or other appropriate individuals before and/or during the program.
I. Accept responsibility for your own decisions and actions.
J. Obey host-country laws.
K. Behave in a way that is respectful of the rights and well-being of others, and encourage others to behave in a similar manner.
L. Avoid illegal drugs and excessive or irresponsible consumption of alcohol.
M. Follow program policies to keep staff informed of your whereabouts and well-being.
N. Become familiar with procedures for obtaining emergency health and legal services in the host county.
Health Watch
Health care abroad can be difficult or inaccessible. With that in mind, visit your doctor before you go. Take advantage of your friendly English-speaking doctor while you are still here: ask every question you can think of and write down the answers! Planning ahead pays off. As you prepare to study abroad, be sure to complete the following health-related tasks:
Talk to your doctor about prescriptions you may need while away and about an easy way to contact him/her in case of questions or emergency (email, phone, fax, parents, mail).
Plan to bring with you the full supply of each medication you take, whether for allergies, asthma, birth control, depression, or other medical conditions. This may entail writing your HMO or    insurance company with a copy of your program acceptance letter, listing the dates of your stay abroad. Travel with an original prescription for each medication you take. All pills should    be in their original containers with your name on them. Have this (with documentation) in your carry-on luggage for customs inspection. Do not pack the medications in your checked    luggage. 
Find out exact details about your health insurance coverage in the host country. Many insurance companies provide information cards or booklets with emergency information.
Go over the "health" and "warning" sections of your travel guide and your program packet together. Familiarize yourself with relevant health-related vocabulary. 
If you take medication, know the generic name of the drug(s) in English and, if possible, in the language of the country where you will be studying.
Bring a downscaled version of your medicine cabinet in addition to your first-aid kit, because these items may be hard to find and/or expensive abroad. Stock up on non-prescription drugs, such as antacids, pain relief, anti-diuretics, anti-bacterial cream, condoms, contact lens solution, etc.
In addition to the physical exam required by your program, think about getting tested for HIV and other sexually-transmitted infections, because access to these tests, and related counseling, may be difficult, impossible, or expensive there. 
NOTE FOR WOMEN: be prepared to fight off urinary tract infections and yeast infections on your own while away. Talk to your doctor about getting medication or filling prescriptions before you go (e.g., Diflucan or Monistat).
Health Check for Study, Work, and Travel Abroad
Before you travel abroad, take a close look at the many factors that contribute to your physical and emotional well-being. A trip abroad almost certainly will affect your health because so much of health has to do with lifestyle and environment. Conversely, the state of your health will have a significant impact on the success and enjoyability of your time abroad. With proper planning, travel can be a happy, health-promoting experience.
Assess your health and your health-related practices
Going abroad is not a magic cure for issues at home. Both physical and emotional health issues will follow you wherever you go. In particular, if you are concerned about your use of alcohol and/or other controlled drugs, or if you have an emotional health concern, you should address it honestly before making plans to travel. Contrary to many people's expectations, travel does not minimize these problems; in fact, it often exacerbates them to a crisis stage when you are away from home and support systems.
Identify your health needs
Be clear about your health needs when applying for a program and when making housing arrangements. Describe allergies, disabilities, psychological treatment, and dietary and medical needs so appropriate arrangements can be made. Resources for people with disabilities vary widely by country and region. If you have a disability or special need, identify it and understand ahead of time just what accommodations can and will be made.
Check health advisories
Find out about immunization requirements and recommendations for your host country, and check out any regional health or medical advisories. In particular, if you have special health needs, check on any particular conditions that may apply to your travel abroad.
Remember to ask questions such as:
What illnesses, if any, are specific or endemic to the region? What medications should I take to prevent them? Are they readily available in the host country?
What precautions are recommended for sexual or health practices?
What kind of insurance do I need, and how much coverage?
What are the customs, beliefs, and laws in the host country concerning sexual behavior and the use of alcohol and drugs?
What is the quality of water in the host country?
What are the laws governing import of medications, medical supplies, and contraceptives?
This information can be gleaned from several sources, including:
Family physician or campus health service     
Local Public Health Department
Centers for Disease Control & Prevention (800/311-3435 or www.cdc.gov)
State Dept. Overseas Citizens Emergency Center (202/647-5225)
Travelers with disabilities can get more information from Mobility International (www.miusa.org or 503/343/1284)
Find out from returned students or the program director:
How long will the flight be, and how long can you expect to experience jet lag? What are the local eating patterns? Are there dietary recommendations?
How is the culture different from your own, and how can you adjust effectively to minimize homesickness?
See your health practitioners
Visits to your family doctor, gynecologist, and dentist will help ensure that you are in good health before you leave, and might prevent emergencies abroad. Get any needed immunizations and hepatitis protection, if appropriate. Update your health records, including eyeglass/contact prescriptions and regular medications. If you are on prescription medication, take with you the amount you will need for your entire stay (less only if you will return to the US mid-program, as some year-abroad students do). If you self-inject prescribed medication, you may need to carry needles and syringes with you. You'll need a physician's prescription for medication and medical supplies to pass through foreign customs stations.
Take copies of all medical records, prescriptions (with a second copy in generic form, if possible), and all other pertinent information. Carry these with you in a safe place. If you expect to need regular medical care abroad, bring a letter of introduction from your home physician, providing details of your medical condition, history, care, and specific needs.
Pack a medical kit
Don't underestimate the importance of keeping some basic medical supplies close at hand. You should always travel with a medical kit that includes the following items:
*Band-Aids                                         *Rubbing alcohol
*Sunscreen and sunburn ointment         *Anti-diarrhea medication
*Gauze and adhesive tape                     *Antibacterial ointment
*Pain reliever
Depending on the region, you may also wish to include water purification tablets, antihistamines, salt tablets, skin moisturizers, eye drops, and insect repellant.
Be sure to pack your regular medications, contraceptives if you may need them, feminine hygiene products if you're traveling where they are not available, and any other routine health and medical products you may need. Check the expiration date of all medications before you leave. Where your health is concerned, it's better to be safe than sorry!
Verify medical insurance coverage
Check your own policy to see what coverage it provides for medical services abroad. In most cases, you have to pay the local provider and then seek reimbursement from the plan. Be sure you have coverage for medical evacuation, in case you need to be flown back to the US for medical treatment, and for repatriation of remains; the ISIC Card (see next page) will cover you for both. Check to be sure you will have coverage for continuing treatment of any newly-acquired medical conditions once you return home.
The International Student Identification Card (ISIC), available at the OIS, is a useful supplement to a comprehensive insurance policy. Card holders are provided with basic insurance coverage, including emergency medical evacuation and repatriation, and a 24-hour toll-free Help Line staffed by multilingual representatives who can advise travelers on required immunizations for travel abroad, as well as help in case of medical, financial, or legal emergencies abroad. Wesleyan's Student Health Insurance Plan can provide coverage overseas if your family policy does not do so.
WHEN YOU ARRIVE
Successful planning for a healthy trip abroad does not end once you board the plane. Because of the differences between cultures, many adjustments, concerns, and questions related to your physical and emotional well-being should be addressed after you arrive.
Find out about resources
Learn how to get medical help, whether routine or emergency, before the need arises. Is there a 911-style emergency number? If so, what services does it access? Who will provide routine medical care, and how can you reach that provider? If you need any special resources, find out early how to get them. These could include services for students with disabilities, self-help groups such as Alcoholics Anonymous (find a local chapter at http://www.aa.org/en_find_meeting.cfm), or any other health-related need.
Give yourself time to adjust
Jet lag and culture shock can sabotage your trip if you are unprepared, and their effects can be lasting if you don't take care of yourself. For the effects of jet lag, get plenty of non-alcoholic fluids, nutritious food, and rest. Time is the best cure.
Culture shock (the emotional effects of facing new values, habits, and lifestyles) can leave you impatient, bewildered, and depressed. You may experience confusing emotional highs and lows during this period. Remind yourself that these will pass, and that being well-rested and eating healthily will speed the process by giving you the stamina to work through it. If they persist, though, consider it a possible medical problem and seek assistance from a counselor or physician.
Make your medical conditions and needs known
If you require regular medical care for any condition you have, tell those in your host country who can be of assistance. This may mean simply identifying a doctor or other practitioner who will provide care, or it may mean discussing your condition with people in your courses or housing situation to let them know that you might need an emergency intervention during your stay.
Ask questions
Lifestyles and norms may differ from your own, maybe in ways you don't see right away. This is true even in cultures that seem relatively similar to the US. Ask about safety issues like local transportation, traffic patterns, swimming practices at regional beaches, and use of electrical appliances. Ask about security issues such as neighborhood or building security, personal security during evening or other outings, and culture-specific behavior or security concerns related to gender. You can't assume that the expectations and practices you took for granted at home will be accepted in your host country. If you are not sure about something, whether it's a simple question about where a service can be found, or a more complex matter such as expectations about friendship and dating, ask someone you trust.
Attend to your own well-being
Despite the change in your environment, you can still keep some of your daily routines from home. Get enough rest – a challenge during the first few days! Eat nutritiously, which may mean trying some foods you're not accustomed to eating. Get plenty of exercise to keep your mind and body working well. Don't isolate yourself. You will probably have to make the first move in developing friendships, but they are an essential part of any overseas experience and, more importantly, your emotional well-being.
WHEN YOU RETURN
You may think it will be "no sweat" to return home to family and friends, but that is not the experience of most study-abroad participants. Perhaps counter-intuitively, students report the same type of adjustment issues when they return as they felt when they first arrived abroad. Remember that you've changed, and that time has not stood still in your absence. Friends and family also may have changed, as have your perceptions of them and theirs of you. You have a new set of experiences they have not shared, and may have acquired different ways of thinking about everything from world politics to friendship, higher education to your place in the world. Be patient with yourself and others.
Ask yourself how you have changed since you left Wesleyan and the US. How have your attitudes and values changed? How have you matured in your opinions and perspectives? How have your attitudes and expectations of friends, family, and faculty changed?
Take care of yourself
Your diet and exercise patterns will change again when you return. You may have jet-lag, and in any case you should plan to get plenty of sleep and maintain a healthy diet.
Moderate your expectations
Your trip abroad does not change those who stayed behind the way it changes you. Problems that existed when you left may still await you when you return, or change may have occurred in your absence. Be prepared to face realistically enduring issues or problems in both your circumstances and your relationships. Take time to share your overseas experience, as well as to listen to the experiences of those who didn't accompany you. If you feel lonely, or just want to talk more about your time abroad, talk to faculty, Gail Winter, and other returning students, all of whom can empathize. Share the most important parts of your trip, including pictures and mementos. But be prepared: some who haven't gone abroad may listen only for a little while.
Debrief and relive
Take advantage of re-entry workshops and parties for returning study-abroad participants. You'll have a chance to meet new people and share your experience with others who will listen and understand. You can serve as a peer advisor for prospective participants, or meet up with international students visiting the US from your overseas host country. These are great ways to keep alive one of the most exciting experiences of your life. You may also want to consider writing articles for one of the several journals and magazines for study abroad participants.
Personal health inventory for study/travel abroad participants
These are potential issues affecting international students (hey, that's about to be you). Which ones concern you? Have you made necessary preparations to avoid problems?
Ability/disability issues
Allergies
Contraceptives
Culture shock
Dental care
Dietary concerns
Emergency resources
Exercise
Eyeglass prescription
Gender-sensitive health care
Health advisories
Hepatitis protection
Immunizations
Insurance
Medications and medical supplies
Psychological issues
Re-entry shock
Regional health issues
Sexuality
Sleep patterns
Smoking
Support networks/friends and family
Values
This document is based on a brochure written by Judith A. Green, Director of International Affairs, Fuqua School of Business, Duke University, and Joan Elias Gore, and produced in coordination with NAFSA: Association of International Educators. The text has been updated and modified by Office of International Studies, Wesleyan University.