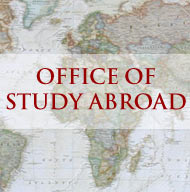 Selecting a Program
Finding the program that best fits your needs takes a little time, partly because there are so many choices and partly because you will need to figure out exactly what your needs are. Here are some things to consider:
Language
Programs in the English-speaking world
English-language programs in other countries (if Wesleyan teaches the language, we generally expect you to have studied it for several semesters at Wesleyan before you can participate in the program)
Programs taught in the language of the host country
Academic Setting
Some programs allow you to enroll directly in courses at a university. Taking the same courses as local students is one of the best ways to meet locals your own age. Remember that you will need to adapt to the pedagogy of the country, which is likely to be very different from that of American universities. Most programs in English-speaking countries fall into this category.
Some programs allow you to take university courses specially designed for international students, or a combination of these and regular university courses. In this case, you generally have access to university facilities and some special programs (e.g., "language buddies" to work on fluency, excursions, and the like), and will meet a combination of local university students and other study-abroaders. Wesleyan's programs in Madrid and Bologna fall into this category.
So-called "island" programs hire faculty to teach program participants. In some cases, the entire curriculum for the semester is set; in others, you may have some choices. Fellow students will be (primarily or exclusively) other US university students; faculty may come from the host country, the US, or elsewhere, and may work as university professors, practitioners, researchers, or program directors/teachers. Some programs of this kind are thematic, such that you and your fellow students will focus on a particular topic, whether in the sciences, arts and humanities, or social sciences. SIT programs are a good example of this kind of program.
Program Style
Some students want a great deal of independence and are willing to do a lot of legwork on things like finding their own housing, figuring out how to register for courses, and learning about the host culture, while others prefer to be part of a program that will take care of these details for them. You may want to stay away from Americans as much as possible, or you may decide it would be more comfortable to be around at least some people with similar backgrounds, going through the acculturation process together. There's no one right answer, so think about finding a good balance based on your knowledge of yourself.
Housing
While most universities abroad don't have an American-style campus life or dormitories, some do. Some programs give you a choice of housing options or a mix of several over the course of the semester, others have just one option. The most common options are homestays, dormitories, and apartments shared with other program participants, local students, or both.
Location
You may choose a program by the country in which it is based. This is especially common for those who want to study a particular society (current or historic), environmental phenomenon, language, or culture. You may want to consider whether you will be able to travel in the region, and whether the political climate is conducive to your spending a semester or year there.
Personal Factors
These may include the cost of living in the countries you're considering, your health situation (asthma, for instance, may preclude some locations), courses available in your major field of study, dates (some programs run only at one time of year, and some have a calendar that conflicts with the US university schedule or summer break), a longstanding desire to live near the sea or to follow in Fitzgerald's footsteps, and so on.