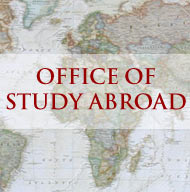 Advising for Study Abroad
As an advisor of first-year or sophomore students, you play an essential role in helping your advisees think through whether they want to study abroad and, if so, how to prepare themselves academically so that the experience can be a substantive, integrated part of their overall Wesleyan career. To this end, we encourage you to discuss the following study abroad-related topics with your advisees:
Potential major(s):

It's especially important for those considering a major in the sciences, pre-med students, and those thinking of a double major to plan far ahead for study abroad, so as to fit in all course requirements that must be taken on campus. Some programs abroad are designed specifically for science majors, while others allow participants to take coursework in the sciences and, in some cases, even to do laboratory or field research in the host country.

Two majors (College of Letters and East Asian Studies) require students to study abroad, and others (such as the College of Social Studies) set aside a particular semester when majors have no requirements to fulfill on campus, so as to enable study abroad at that time.


Language study: Students considering study in a country whose language is taught on campus (Arabic, Chinese, French, German, Hebrew, Italian, Japanese, Korean, Portuguese, Russian, Spanish, or Swahili – in addition to Latin, Ancient Greek, and American Sign Language) should be encouraged to take language courses throughout their time at Wesleyan. The better their language skills, the more academic options they'll have once abroad, and the more they'll be able to take advantage of cultural, intellectual, and other opportunities.


Area studies: Wesleyan offers several ways to help students find courses on particular regions of the world. Besides the East Asian Studies and Latin American Studies programs and the language departments, WesMaps identifies course clusters on African Studies, Southern Asia and Indian Ocean Studies, and Jewish and Israel Studies. Other courses, particularly but not exclusively in AH and SBS departments, don't fall into these categories but focus on particular countries or regions. In addition, you might want to remind your advisees that many courses will allow them to write research papers on topics partially of their choosing, such that they can direct some assignments and readings to their regional interests.


Plans for study abroad: Some students come to Wesleyan knowing that 50% of our students spend a semester or year abroad. Others may never have considered the possibility, or may think it's not an option for them. This may be particularly true of first-generation college-goers, students on financial aid, students of color, science majors, athletes, and male students, all of whom study abroad at a lower rate than the general population. Posing the question, letting them know about OIS drop-in hours (MWF 10-12, TTh 2-4, or by appointment) and that financial aid goes with them when they study abroad, and telling them that both graduation and major credit can be earned abroad, are all ways to start them thinking about this wonderful opportunity.