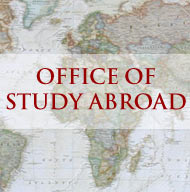 Committee on International Studies
The Committee on International Studies is a faculty committee that meets twice monthly during the academic year. This group serves as an advisory board to the Director of International Studies. It reviews and makes decisions on student petitions to study on programs not included in the List of Approved Programs, provides oversight for OIS policies, procedures, and activities, monitors the progress of internationalization at Wesleyan, and authorizes new initiatives in this arena.
Those who serve on the committee come from all three university divisions and include tenured and tenure-track faculty members. If you are interested in serving on this committee, please contact
Antonio Gonzalez
.