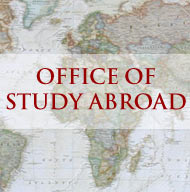 Waivers For Short-Term Programs
Wesleyan has implemented a waiver for students going abroad (or elsewhere in the US) for three reasons beyond a semester/year of study:
Participation in conferences, research, or fieldwork organized by Wesleyan
Participation in conferences, research, or fieldwork sponsored fully or partially by Wesleyan (including Davenport grants, the Freeman Asian/Asian American Inititaive, departmental funds, and other sources)
Participation in conferences, research, or fieldwork that relates to credit-bearing work at Wesleyan
If you organize such a program, or become aware of,student plans to participate in any of these activities, you must contact
Gail Winter
, who will prepare the waiver and, once it has been reviewed by
Michael Benn
, return it to you for students to sign. You must collect these waivers before student participation begins.
If the students will be visiting any country for which the US Department of State has a current travel warning, a second, country-specific waiver must be signed by the student and his/her parents. This waiver also will be prepared by Gail Winter and vetted by Michael Benn before being passed on to the relevant faculty member for distribution among participating students, and must be signed and collected by said faculty member before student participation begins.
Some faculty members find it wise to have students disclose medical conditions before participating in such a program. While the university cannot compel students to disclose information about physical or behavioral conditions, it is important to emphasize to students that their own well-being depends on group leaders knowing of any pre-existing conditions so as to be able to help should a problem arise during the program. If you would like help in creating such a form, please contact
Carolyn Sorkin
; you also may wish to review the medical and health insurance information forms required of Wesleyan students participating in study abroad.