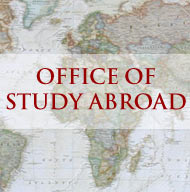 Summer Study Abroad
What's the Deal with Summer Programs?
The Office of International Studies is primarily responsible for assisting students in the selection of credit programs which take place during the academic year. We do, however, have some information regarding the availability of summer study-abroad programs. Here's what you need to know:
It is the student's responsibility to find a suitable program and to obtain the appropriate information. Wesleyan will grant up to a limit of two credits for summer work with a minimum grade of B-; students interested in receiving credit for participation in a summer study-abroad program must contact theDeans' office to obtain the appropriate transfer of credit information. Note that summer credits, whether earned domestically or abroad, must be approved by the Deans' office, and not by the Office of International Studies.
How do I find a summer program?
There are many resources online, and a good place to start is 
IIEPassport.org
. We'll be happy to discuss the quality of interesting programs with you, and give advice on credit issues, and things of that sort. Programs with which Wesleyan deals on a regular basis often send us their brochures, and since we 
never
 throw 
anything
 out, we have a shelf full of possibilities. Stop by any time during our
drop in hours
 to look through what we have.
Academic departments can be good resources; if you're looking to do work in a specific academic area, check with the appropriate department on campus to see if the professors recommend anything specific.

Federal Grants for Summer Language Study
NSEP Boren Scholarships: summer or semester funding for study abroad in areas of the world that are critical to US interests and underrepresented in study abroad.
US Dept. of State's Critical Language Scholarship Program: intensive summer language institutes overseas in thirteen critical-need foreign languages: Arabic, Azerbaijani, Bangla/Bengali, Chinese, Hindi, Indonesian, Japanese, Korean, Persian, Punjabi, Russian, Turkish, and Urdu
STARTALK: summer critical language study in the US: Arabic, Chinese, Hindi, Persian, Swahili, Turkish, and Urdu.
If you're interested in a job or internship abroad, the Career Resource Center is a good place to check.
Good luck with your search. If we at International Studies can offer any further advice, feel free to drop by and ask!