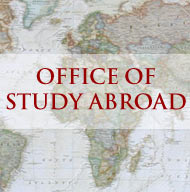 STUDY ABROAD OPTIONS: OVERVIEW
Under the auspices of the Office of International Studies Wesleyan provides its undergraduates with the opportunity to study for a semester or a year in any area of the world, through either a Wesleyan-administered program (in France, Italy, or Spain) or a carefully monitored field of third-party options.  While studying abroad, our students are enrolled at Wesleyan and they continue to make normal progress toward the completion of their Wesleyan Bachelor of Arts degree.  Financial aid recipients are covered abroad by whatever aid they receive on the home campus. The wide variety of available options makes study abroad an exciting opportunity for students of any major to expand their intellectual horizons within their discipline of choice, whether through the medium of another language or on any of the select number of English-speaking programs.  Through the administration of our own programs or by overseeing our students' field of options, the Wesleyan Office of International Studies seeks to provide an academic experience abroad that is rigorous and that conforms to the codes and practices of that country or regions culture. We seek to facilitate meaningful linguistic and social immersion, healthy and safe habits, and we provide counsel our students to use their free time wisely for exploring, learning, and adapting on their own.
Evidence of Wesleyan's success in this area includes the nearly 50% of the Wesleyan student body that, over time, has spent a semester or year abroad. For information specific to the programs of interest, follow the links below.  A more detailed discussion of your study abroad options is available on the "General regulations for study abroad" page on this web site.
Wesleyan-administered programs
Other programs
Wesleyan-administered programs - Applicants from other institutions
We welcome applications from students from other institutions for our programs in Bologna, Madrid, and Paris.  For deadlines, applications forms, and contact information, visit: http://www.wesleyan.edu/ois/forms/wesadministered.html.