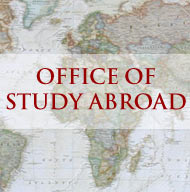 Checklist for Parents
PRE-DEPARTURE:
Encourage your son or daughter to take responsibility for pre-departure logistics and paperwork. Confirm with your daughter/son that s/he has read the Regulations pages carefully, has signed (electronically) and submitted all of the required application forms available through their electronic portfolio.
Study abroad program information: Familiarize yourself with the format, goals, and philosophy of the program on which your son or daughter is about to embark.
Take care of any outstanding financial matters at either Wesleyan or your home institution.
Passport and visa: Your son/daughter must have a passport that is valid for at least six months (sometimes longer) beyond the end date of their program abroad. Many programs require visas as well. Applications processes for both are time consuming and can be complicated. Stay in touch with your son or daughter to ensure that s/he is on top of this.
Copy important documents: Keep scanned copies of your son/daughter's important documents (e.g., passport, visa, etc.), credit cards and medical records at home with you and make sure that s/he will have access to the same while abroad.
Finances: Help them establish a plan for managing their personal finances while abroad.
Communication: Establish and practice your established communication plans (Skype, Google Hangout, Facetime, etc.) with your son/daughter. Discuss how and how often you will contact each other. Determine when and how your son/daughter will contact you upon arrival abroad.
Safety and health: Discuss safety issues with your son/daughter. We strongly encourage you to go through the Health and Safety information on this web site and on the web site of the program your son/daughter has chosen. In particular, please go over the information regarding sexual assault, and please talk about all of precautions students can take to minimize risk. While abroad, students are not as attuned to the non-verbal cues of what may be an unsafe situation in a foreign country, and this (along with other factors) places them at greater risk of assault than is the case on the home campus.
Power of attorney: Your son/daughter may wish to arrange for "power of attorney" for you to handle his/her financial affairs while s/he is abroad.
WHILE YOUR SON OR DAUGHTER IS ABROAD:
Encourage independence and self-reliance.
Encourage your son/daughter to prioritize cultural and linguistic immersion over socializing with English-speaking friends from home.
Provide your son or daughter the support for developing, above all, a network abroad. This may include avoiding frequent communications, long visits, or other activities that may interfere with language learning and cultural immersion.
It can be extremely useful for parents to discuss health and safety information again with their sons/daughters again, later in the semester. There can be an increase in safety incidents and health-related problems toward the end of the semester, when students tend to let their guard down after becoming more familiar with their host country.
Understand that all students will experience some degree of culture shock and that this may have a significant impact on what your son or daughter is communicating to you about the experience.
WHEN YOUR SON OR DAUGHTER RETURNS HOME
Recognize that they have had a transformative experience and that they may struggle as they attempt to reconcile their own growth and changes with a world that will strangely the same.
Understand that they may experience re-entry culture shock and that this can be even more intense than the original culture shock on arrival abroad
Allow them to share the experience with you as much as they want.
Gather information for yourself and, if warranted, for them regarding the re-entry experience.
The School for International Training's handbook is a useful tool:  http://www.sit.edu/SSA_Other_documents/parent_reentry_handbook.pdf