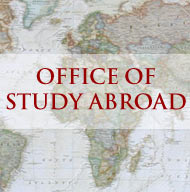 Academic Regulations
STUDY ABROAD CREDITS COUNT TOWARD GRADUATION
Students studying abroad under the auspices of Wesleyan's Office of Study Abroad automatically receive credit toward their Wesleyan degree for all liberal arts courses taken abroad in fields taught at Wesleyan.
Students must enroll in the equivalent of four Wesleyan credits for each semester abroad. Permission for a fifth credit may be granted by the resident director of a Wesleyan-administered program, and by the Director of Study Abroad for any other program.
STUDY ABROAD AND THE MAJOR
In order for a course to count toward the major, students must obtain preliminary approval from their advisor or another member of the department prior to their departure from Wesleyan, as indicated on the online application. Permission to count a course toward the major cannot be granted retroactively.
Students may understandably need to modify their selection during the on-site registration period abroad. They are therefore expected to seek their advisor's guidance and approval by email and must notify the OIS (gwinter@wesleyan.edu) of any changes. Failure to do so may result in the student making inadequate progress toward the completion of the major.
In determining whether to count a course toward completion of the major, advisors may choose to make final approval contingent upon specific conditions. These conditions may include a minimum grade or portfolio review, that is, submission of the syllabus, course description and written work, upon returning to campus.
The OIS does not determine whether courses taken abroad count for completion of any specific major. All such decisions are made by the academic departments, colleges, or programs.
For a detailed list of department policies and requirement regarding courses taken abroad that might count toward the major, visit: http://www.wesleyan.edu/ois/returning/majorcredit.html
THE WESLEYAN TRANSCRIPT
Grades for study abroad are reported on the Wesleyan transcript and they are factored into the student's overall GPA. All courses must be taken in the graded mode (A-F) unless this option is unavailable.
A+ grades earned abroad will be posted to the Wesleyan transcript as A grades.
SEMESTER HOURS versus THE WESLEYAN CREDIT SYSTEM
Many American institutions and programs use the "semester hour" system. Four (4.0) semester hours of coursework taken in this system are equivalent to one (1.0) credit in the Wesleyan system. Wesleyan students enrolled under the semester-hour system must therefore enroll in 15-16 semester hours of instruction in order to meet the required 4 Wesleyan credits (full load) of instruction abroad.
OTHER CREDIT SYSTEMS
Students enrolling directly at a university abroad should be aware that there is considerable variation in the weighting of courses, not only from institution to institution but sometimes between schools or colleges within a single institution. In such cases, questions regarding equivalencies will be addressed on an individual basis.
SUMMER STUDY ABROAD
The OIS does not oversee summer study abroad. For information regarding the transfer of credit for such instruction contact your class dean.
GENERAL EDUCATION EXPECTATIONS
Requests to satisfy general education expectations with courses abroad must be submitted in writing, along with the relevant course description and syllabus, to the Office of Study Abroad, either pre-departure or post-return, no later than mid-term of the semester in which they return to the Wesleyan Campus or when the transcript is received, whichever is later.  The OSA will review and approve the GenEd designations upon receipt of the request.  The OSA will attach documentation of this approval to the transcript from abroad, once it is received.  The Registrar's Office staff will post the course and GenEd designation upon receipt of the transcript and supporting documents.
WESLEYAN'S RESIDENCY REQUIREMENT
Study on a program abroad does not satisfy Wesleyan's residency requirement.
INTERNSHIPS
Extracurricular internships
An extracurricular internship abroad can offer a meaningful tool for cultural immersion.   Such internships are customarily administered through the on-site program staff.  Students interested in this experience should contact the office abroad.
Internships for credit
Wesleyan students can earn .25 for an internship that entails at least 40 hours total (not per week), and they can count credit from up to two internships (only) toward graduation. All internships are CR/U. Wesleyan's Director of Service Learning registers students for the internship course upon receipt of the Student Information Form.  The employers are required to fill out the Internship Description Form and, after the internship ends, the Completion Form. The final requirement of the interns is a 500-word reflective essay, which the Service-Learning Director reads.
Interested students should contact Barbara Juhasz, Director of Service Learning, for more information.