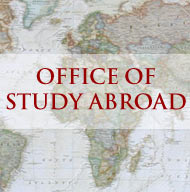 Basic Information About Study Abroad With Wesleyan
Our Policies 
Wesleyan Programs
If your daughter or son has selected one of the five programs fully administered by an academic department at Wesleyan - Paris (in consortium with Vassar), Madrid (in consortium with Vassar),  or Bologna (in consortium with Vassar and Wellesley) - then you will also receive information from your student. We work in cooperation with the managing department and the faculty committees that oversee these programs to ensure that all aspects of the study abroad experience are handled as smoothly as possible.
In addition to these programs, there is especially strong Wesleyan faculty involvement in the English Department program at The University of Sussex; the Associated Kyoto Program in Japan; the Inter-Collegiate Classical Studies Semester in Rome; Duke's program in China; and the approved programs in Russia. These are programs with which we have a long-standing institutional relationships. The Office of International Studies handles the logistical aspects of the lives of students selecting these programs, and we will be happy to assist in any way necessary. 
Wesleyan Approved Programs
In addition to the programs listed above, we approve a broad range of carefully selected academic programs run by other institutions, as well as direct enrollment in many universities in various countries. In this way, we aim to balance freedom of choice with assurance of the quality of programs available to our students. We put out a "List of Approved Programs", which is frequently revised by our energetic faculty Committee on International Studies (CIS).  Students use this as a guide when they begin their selection process.
Petitioned Programs
Occasionally, a student discovers a program neither administered by Wesleyan nor on its approved list, which s/he feels will provide an important academic opportunity not available elsewhere.  In this case, the student may petition for permission to participate in that program for Wesleyan credit.  After meeting with me to discuss the program, the student's academic reasons for participation, and the petition process, s/he proceeds with the paperwork.  Petitions are reviewed by the CIS, and must provide a strong argument that the program in question meets a need within the student's academic program at Wesleyan.  If the program is deemed to be of a similar caliber to a semester at Wesleyan, and if the proposed program of study is appropriate to the student's major and/or other academic goals, the petition may be approved, at which point the student will be treated as if s/he were attending a program on the approved list.
In case you have not had an opportunity to see our study abroad materials, let me briefly explain the process of applying for study abroad at Wesleyan.
Credit
Students receive credit for study abroad during the academic year only if they apply through the OIS.  They must have their proposed course of study pre-approved by the appropriate Wesleyan professors and their major advisors.  Course titles and grades appear on the Wesleyan transcript and grades are calculated into the student's average. No retroactive approval is given for work abroad, so we safeguard credit by ensuring beforehand that the student, the advisor, and Wesleyan are in agreement about the kind of study abroad experience being chosen, as well its implications for completion of a degree. Records are kept in the OIS, and we make every effort to be sure that the transfer of credit goes smoothly. For a student going abroad on a Wesleyan-approved program, we guarantee that credit towards graduation will be given for all approved courses. We also assist with approval for major credit, although of course the right to grant credit towards a major remains with the department.