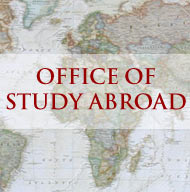 Financial Procedures
Wesleyan's Policy
Wesleyan has determined that in order to provide a good range of programs with equal opportunity of access, and to provide monitoring and services to students abroad, we will pursue the policy of "Wesleyan tuition for Wesleyan credit." From the point of view of parents of students who do not receive financial aid, this may seem difficult to justify, since many programs charge lower tuition than Wesleyan's. We therefore asked the faculty Committee on International Studies to review our policy in spring 1999, five years after it was first implemented, and the Committee determined that the policy is serving the needs of the institution well, and that other alternatives (capping the number of students who are given authorization for study abroad, limiting the programs for which we give financial aid, or charging special fees) were less equitable and should not be considered at this time.
Financial Procedures
When studying abroad, students will pay Wesleyan tuition and in return receive Wesleyan credit.  Wesleyan considers charges for expenses that are required as part of the academic program (e.g., cultural events, local travel, or field work that the program considers necessary to the academic program) as part of tuition.  If programs require advance summer language programs (whether abroad or in the United States), Wesleyan will pay the  summer school tuition charges.  All program (i.e., tuition or comprehensive fees) charges will be billed to Wesleyan, not to the student, and Wesleyan will bill the student.  However, students are to pay nonrefundable advance deposits directly to the program, and Wesleyan will credit them with the amount when student accounts are figured.  Students eligible for financial aid should apply directly to Wesleyan's Financial Aid Office.  All students must purchase health and accident insurance if the program does not provide it.
Programs that charge a single comprehensive fee, including tuition, room and board, and/or insurance and airfare: Wesleyan will charge the student Wesleyan tuition plus 25% of the program's comprehensive fee, which is the equivalent of the percentage of the Wesleyan's semester bill that covers room and board costs.  If the program includes airfare in its comprehensive fee, then Wesleyan will include it as well and not charge the student separately.  However, if airfare is not covered by the program, then the student is responsible for his or her own arrangements.
Programs that charge a single fee that includes tuition and housing but not meals:  Wesleyan bills the student Wesleyan tuition plus 10% of the program charge, which is approximately the percentage of Wesleyan's semester bill that covers housing.  The student is responsible for meals, airfare and insurance.
Programs that list tuition charges separately from room and board charges in their statements of fees (i.e.,the program provides housing and meals but lists them as separate items): Wesleyan bills the student for Wesleyan tuition and the actual cost of room and board, as set by the program.  The student is responsible for airfare and insurance.
Programs that charge students only tuition (leaving them to arrange their own room and board independently): Wesleyan will bill the student for Wesleyan tuition only. The student is responsible for his or her own housing and meals.  Students are also responsible for airfare and other non-tuition charges.
The Office of International Studies has a special fund for contingencies and emergencies. If study abroad poses a financial hardship or results in unreasonably high expense because costs significantlyexceed the cost of staying at Wesleyan, the student can apply for modest assistance (not to exceed $1000 for a semester and $1500 for a year).  Application should be made directly to the Office, and students should be as precise as possible about their financial needs.  Application must be made by the last day of classes the semester before departure, and late applications can not be considered.