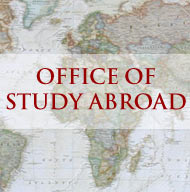 General Regulations for Study Abroad
STUDY ABROAD PROGRAM OPTIONS
The application process for study abroad is uniform for all students and all programs. Students may access the application forms, beginning with the "Initial inquiry" form, through their electronic portfolio. Deadlines for completing the application process are as follows:
For spring Wesleyan administered programs: October 1
For spring study aboad on all other programs: October 15
For fall or full year study abroad: March 1
WESLEYAN-ADMINISTERED PROGRAMS
Wesleyan administers immersion programs in France, Italy and Spain for students with the appropriate linguistic preparation:
France:  Vassar-Wesleyan Program in Paris
Italy:     Eastern College Consortium (ECCO) Program in Bologna
Spain:    Vassar-Wesleyan Program in Madrid
Home campus oversight committees establish the criteria for admission, process the applications, and set all policies for these programs. The on-site staff abroad includes a faculty resident director from the home US campus, an assistant to the director and student interns from the local university. The local staff is responsible for enforcing program policy and facilitating students' academic assimilation and cultural immersion.
These programs offer instruction in all disciplines, either through direct enrollment in regular university courses or through courses taught by French, Italian, or Spanish faculty specifically for foreign students. Students from all majors are encouraged to apply. Housing options vary and ordinarily include homestays with local families (France and Spain) or residence in a student dorm (Italy). All three programs organize a rich calendar of extracurricular activities and cultural events, that are educational in nature and aimed at enhancing the students' cultural assimilation.
Given the quality and Wesleyan's careful oversight of these programs and in view of the opportunities they offer for direct enrollment and cultural immersion, we encourage Wesleyan students of French, Italian, or Spanish to consider them first when weighing their study abroad options. More information is available on each program's web site (follow links):
Eastern College Consortium (ECCo) in Bologna
Vassar-Wesleyan Program in Madrid
Vassar-Wesleyan Program in Paris

OTHER PROGRAMS
Over the years Wesleyan students have had successful and meaningful experiences on a host of programs representing all areas of the world. For a list of programs commonly used by Wesleyan students, please consult the OIS web site.
In addition to submitting Wesleyan's own online application, students must contact the sponsoring institution regarding its own application form and procedures. Acceptance for study with other programs ultimately depends on that program's admissions committee. Wesleyan students must satisfy all requirements, comply with all specific policies and regulations and follow all application procedures set by both Wesleyan's OIS and the program itself.
Student evaluations of programs used over the years by Wesleyan students are available for planning purposes in the Office of International Studies.
Students interested in a program not included above should consult with the Office of International Studies. Factors that we consider in evaluating new programs include the quality and appropriateness of the instruction offered, its relevance to the student's major, measures taken by the program to guarantee student health and safety, and expectations for academic, linguistic and social immersion and assimilation. Wesleyan students may not study on programs that do not meet our criteria in these areas. Any program accepted for Wesleyan students must also have, as part of their policy documentation, a non-discrimination clause comparable to Wesleyan's.


FOREIGN LANGUAGE POLICY
Competency in the target language is commonly required for study in non-English speaking countries and regions. Although this requirement varies according to the program, all students are expected to enroll in a course in the target language the semester prior to studying abroad.  We also strongly urge students to take at least one more course in the target language after returning to Wesleyan.
WESLEYAN-ADMINISTERED PROGRAMS
France and Spain: minimally, the equivalent of 2 full years of university-level instruction (the equivalent of French 112 or Spanish 112) with a grade of B or better. For their own benefit, students are expected to make every effort to complete French 215 or Spanish 221 prior to studying abroad. The OIS reserves the right to deny approval for students who have not completed the fifth semester.
Italy: students are expected to complete Italian 102 for all or full year, 111 for spring.
OTHER PROGRAMS
In terms of language preparation, Wesleyan's own prerequisites take precedent when they are more stringent than prerequisites set by the program itself.
In countries or regions whose language is taught regularly at Wesleyan:
Students will be required to pursue their studies abroad through the medium of the target language. They will therefore need to reach the required level in their language instruction prior to going abroad.
Students who have not progressed beyond the intermediate level before going abroad will be required to take the placement test upon returning to campus. This will allow us to determine the appropriate level for the continuation of their language studies at Wesleyan, and also help us assess the quality of language instruction in approved programs abroad
In countries or regions whose language is not regularly taught at Wesleyan:
Students are required enroll in at least one course per semester in the language of their host country or region while abroad, even if the program's language of instruction is English.
Students with adequate prior knowledge will pursue their studies through the medium of the target language.
Exceptions to this policy are made only for certain thematic programs, as noted on the OIS web site. In such cases, students are strongly encouraged to study the relevant language for as long as possible before attending the program.
DIRECT ENROLLMENT OPTIONS ABROAD
All students abroad are expected to take full advantage of direct enrollment options in regular university courses to the extent that their linguistic capabilities permit. This policy is designed in the interest of our students' cultural assimilation and academic immersion. Students with native or fluent competence in a foreign language are expected to take all of their courses through the direct enrollment option.


ENGLISH LANGUAGE PROGRAMS
Students needing to study in an English-speaking country should choose a program that places its students in universities. They are expected to avoid programs that create courses for American students only or that place students in courses outside of the university context.


MAJORS REQUIRING A STUDY ABROAD EXPERIENCE
Some majors require, expect or encourage their students to study abroad. It is important to note that Wesleyan students are not automatically granted permission to study abroad or acceptance to a program merely on the basis of departmental requirements. Advanced planning, beginning during the Freshman year, is crucial in order for these students to meet the language requirements that will qualify them for admission into the program of their choice.


ELIGIBILITY FOR STUDY ABROAD
All Wesleyan academic regulations apply to students studying for Wesleyan credit abroad.
Students who apply to study abroad must be in good academic and disciplinary standing at Wesleyan. Disciplinary proceedings filed after the approval to study abroad will result in the student's permission to study abroad being revoked.
Students wishing to study abroad following a medical leave must petition for permission to do so.
Students must resolve any incomplete or any grade of X or AB by two weeks prior to the beginning of the program in order to be eligible for studying abroad.
Application to study abroad includes a Standards of Conduct Pledge. This pledge holds students accountable to Wesleyan's Honor System and Code of Non-Academic Conduct. Infractions abroad may result in Honor Board or Student Judicial Board charges and potentially expulsion from the program.
A delinquent balance in a student's Wesleyan account the semester prior to studying abroad may result in that student's permission being denied or revoked.
Students required to resign from Wesleyan may not use study abroad as a way of gathering the credit needed to return, unless they are citizens of the country in which they wish to study. In that case, their credit taken abroad is processed as if it were domestic transfer credit, through the Registrar's office and not through the Office of International Studies..
Students who accept positions as head residents for a particular academic year are not eligible to study abroad during that time, since their commitment in accepting that position is for an entire year.


PASSPORTS and VISAS
In order to study abroad students must have a valid passport that will not expire over the ensuing year. Most will also need a student visa, for which a valid passport is required. In order to obtain a visa, the passport expiration date must not fall within the first six (6) months after the end of the program.
If you are contemplating study abroad apply for a passport immediately. If you have a passport that will expire less than 6 months after the end of the program, it is imperative that you apply to renew it immediately.
The visa application process can be time-consuming and requires a valid passport that will not expire during your time abroad. Students should therefore apply for their passport early and expedite it as quickly as possible. Students are responsible for obtaining their own student visas for study abroad unless they are specifically informed otherwise by the program.
Passport applications may be obtained at U.S. Post Offices. Relevant information is also available online at: http://travel.state.gov/content/passports/english/passports/apply.html
HEALTH & SAFETY
As part of their application students seek clearance to study abroad from Wesleyan's Davison Health Center and CAPS (Counseling & Psychological Services). Confidentiality laws prohibit the OIS staff or the program staff abroad from having access to students' private medical history. For their own well-being, students are strongly encouraged to discuss voluntarily any health-related concerns or disabilities with their home-campus study abroad officer prior to departure and with the program director upon arrival abroad.


HEALTH INSURANCE
Health insurance is required for all students studying abroad. Students not covered by either Wesleyan's student insurance or their family policy must purchase health insurance prior to departure.
Students should also purchase the International Student Identity Card (ISIC), available through the OIS. In addition to discounts on travel and activities, this card provides supplemental insurance coverage, including medical evacuation and repatriation.


TRAVEL WARNINGS
The US Department of State issues Travel Warnings when conditions make a country dangerous or unstable or due to the closing of an embassy or consulate.
When planning to study in a country with a US State Department Travel Warning, students and their parent must sign a country-specific waiver of liability, to which the OIS will attach a copy of the relevant Travel Warning. Students considering study in such countries are strongly urged to read the relevant US State Department Travel Warning and also the British and Canadian equivalents, which can be found at https://www.gov.uk/foreign-travel-advice and http://travel.gc.ca/travelling/advisories.


NON-US CITIZENS
Janice Watson, Coordinator of International Student Services (x3704; North College) will counsel non-US citizens on how to stay in compliance with US immigration regulations while abroad. She will also aid permanent residents of the United States in obtaining a visa for their country of destination.


CRUCIAL NOTIFICATIONS & STAYING IN TOUCH
In order to participate on a non-Wesleyan program, students must submit a copy of their acceptance letter with a notation that they plan to attend said programs. Failure to do so may result in the permission to study abroad being revoked.
Once students settle in their destination, they are expected to forward their contact information (address, telephone number) to the OIS for inclusion in their files. The OIS will communicate with students abroad via email, keeping them abreast of events at Wesleyan and addressing logistical and adaptation issues during their stay abroad.
Students deciding at the last minute not to participate on a program are required to notify the OIS promptly, in order to facilitate arrangements for their return to campus.