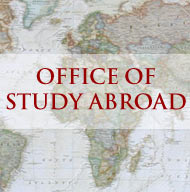 Things To Remember
I don't at all want to sound patronizing, but I do want to remind you of some of the basic truths of study abroad:
It will change the student in real ways, and recognizing that fact can be of great assistance to everyone. 
On arrival abroad most students are a little upset and disoriented. We suggest they not call home for at least a week, by which time they are usually euphoric, but if you get a tearful call 24 hours after departure, we suggest you remain calm.
Most students experience culture shock to some degree. This results in a recognizable pattern of reaction which students tend to assume is a wholly individual, personal response. If your traveler experiences irritation and depression after a few weeks, it's part of this pattern and will probably go away - all the faster if you remain cheerful and breezy in response.
Your support and confidence are vital for the well-being of your daughter or son: doubtful parents result in doubtful travelers. Since we know that study abroad improves motivation, enhances independence, builds self-confidence, and even improves grades, we urge you to share our enthusiasm for what is usually one of the most significant academic experiences in a student's life.
Once again, please feel free to call us with questions or concerns you may have, and do encourage your daughter or son to check with us about any problems that may arise.
Professor Antonio Gonzalez, Gail Winter and Jennifer Collingwood
Office of International Studies
Wesleyan University
105 Fisk Hall
Middletown, CT 06459
Tel: 860 685 2550
Fax: 860 685 2551
e-mail: agonzalez@wesleyan.edu
gwinter@wesleyan.edu., jcollingwood@wesleyan.edu