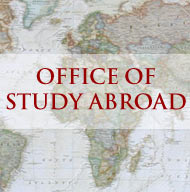 Suggestions
Safety
This is a primary concern. You know as well as we do that you can never be absolutely sure of your child's safety, and that you will always worry. We promise to tell you as much as we know about any potential safety concern, and we will do our best to remain informed and to keep you informed. On-site program organizers generally know more about the situation in any country and in case of unrest we attempt to keep in touch with those on-site personnel. We encourage you as parents, however, to keep yourselves informed. The Internet is an excellent source of information about most countries, though as you know not all sites are wholly reliable.
In terms of  personal safety, we raise issues with students in pre-departure orientation, and most programs raise these same issues on-site.  This is a handout we give to our students. While we do not wish to alarm anyone unnecessarily, we think it is helpful for you to remind your (no doubt very excited) daughter or son about the importance of thinking carefully about these issues. We also urge you to look carefully at the sheet describing realistic expectations about safety issues.
Health
We have a responsive health service here on campus, but we suggest that students going to Africa, Asia, Latin America or the Middle East make a point of checking program materials about health precautions very carefully. In Appendix 3 you will find information we'll be handing out  to help students keep track. Again, you'll  probably want to be sure that your student is focused on this set of issues. The cost of immunizations for developing countries may be quite high, and  we advise that students check more than one travel medicine clinic to find their best option.
If your son or daughter has received treatment for psychological problems such as depression or an eating disorder, we urge you to discuss this issue within your family:  study abroad can be stressful, and exacerbate such problems. If there are any medical issues that concern you, or if your son or daughter has any chronic or recurring problems, program personnel should know of these issues before your son or daughter leaves home.
Insurance
Your son or daughter files with us a form indicating that he or she has medical insurance coverage which will be in effect throughout the study abroad period: probably you've already been asked to check what coverage your family policy offers. We ask you to check that your daughter or son does not forget to bring relevant  policy information. We also strongly recommend that students purchase the International Student Identity Card, which gives some medical coverage, as well as important medical evacuation and repatriation coverage. It is available in this office for $25.00, and offers some good discounts and travel services as well as insurance.  Some programs include this card so your student should check before purchasing one.
Money
All the guides say, "pack half as many clothes, and twice as much money, as you think you'll need". In fact, the important thing is for students to be able to budget intelligently, and to know what to do in an emergency. A credit card on your account is a tremendous security blanket - if you are sure that it will only be used in an emergency! In some countries there are ATM machines behind the dunes just like in the commercials, in others you can really find yourself stranded - the important thing is for students to have a good idea of what the situation is in the country of study, and you may wish to help your traveler plan accordingly. Guidebooks like Fodor's and the Lonely Planet guides provide useful information of this kind, so we recommend that you browse in your local bookstore. We also put students in touch with others who have returned from the same program, and this can be an excellent source of information on the financial realities of life abroad.
Do make sure your son or daughter is clear on what Wesleyan is  paying for, and what is between your family and the hosting institution or program. We provide students with worksheets to help understand cost allocation.  A careful and realistic budget can significantly help a student manage financially. If you run into any difficulties with billing, by Wesleyan or the host program, call Gail and she'll investigate for you.
Communications
We  recommend a calling card, even if just for emergencies, and there is an application form for the AT&T cards that comes with the International Student Identity Card. We also recommend that you discourage your son or daughter from calling home too often, because that can really slow down the adjustment process (as well as bankrupting you).  Many students suggest a call at regular intervals, planned in advance - and we think that's an excellent solution: Sunday night at 8.00 p.m. eastern standard time, or something of the sort, when you call from home (which is much cheaper in most cases).  Sometimes a situation can arise which we call "destructive dialing": a student gets upset about something and calls home; the parent gets upset, and calls back later, making the student more upset - and so on until the situation can reach crisis point. You'll want to avoid that, and regular, limited calling can help do so.
We also try to discourage excessive use of e-mail, though it's extremely useful for trouble-shooting.  The problem is that if the student is able to log-on and chat electronically at will, the incentive to integrate with the community abroad is much decreased. Many students these days do have access to e-mail, and use it to get our help with approval of courses and to find out where their friends are. It's obviously better if students are not communicating extensively in English by email when they're trying to improve their language skills by immersion in a foreign language, so we would again suggest that you reinforce the importance of setting limits for this means of communication. Even students in English speaking countries greatly benefit from reducing their engagement with family and friends at home during their sojourn abroad.
We ask that all students abroad let us know their address as soon as possible, and we will  send the occasional Argus, information about returning home, advice on cultural adjustment, and gossip about the day's scandals at Wesleyan.  And though snail mail is rapidly  giving way to electronic letter-writing, it's still a great pleasure for students to receive letters while they are abroad.
Re-entry
There's been a lot written in recent years about problems students may encounter on return to the U.S.  after study abroad.  To assist with this process, we'll be writing to your daughter or son before their return home, and we try to give returnees every opportunity to work through the experience here on campus. But reverse culture shock can be a real problem for some - especially those who've been away a full year. It may surprise you to know that many students have an easier time adjusting to being abroad than they do coming home, and your help will be needed once again in this respect.