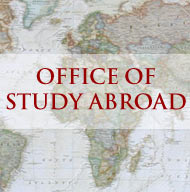 Passports, Visas and Insurance
IMPORTANT PASSPORT INFORMATION FOR U.S. CITIZENS
We recommend that all students have a valid passport, regardless of when they plan to study abroad. You cannot go abroad without a passport, and most countries require that you have a student visa, which you cannot secure until you have a passport. If you plan to study abroad, and do not have a passport or have one that will expire less than 6 months AFTER THE END OF YOUR PROGRAM, it is imperative that you apply immediately. Use the regular or expedited passport process and express postage to send your passport application and receive your passport back from the Passport Agency. Expediting costs more, but will get your passport back to you sooner. You are likely to need this time to apply for and receive a student visa AFTER you receive your passport. 
Passport applications can be obtained from the Clerk of Court at all county court houses and at U.S. Post Offices. In Middletown, passport applications may be obtained at the U.S. Post Office, 11 Silver Street (telephone 638-6977) or the Probate Court office, 94 Court Street (telephone 347-7424). You must send a certified copy of your birth certificate and two passport-sized photographs with your application. Passport photos can be purchased at various locations in Middletown, including CVS, Rite Aid, and Walgreen's. The cost at all three locations is currently $7.99 plus tax; photos can be taken at the Post Office, where the cost is $15. As of January 2009 the cost of a passport is approximately $100.  The figure does not include the 2 required passport photos, the expediting fee for faster processing or any special postage. The Passport Agency recommends that you use U.S. Postal Service Express Mail to send your application and to receive it. Please check with your local post office for changes in passport and postage costs.
Advice on Passports, Visas, and Health Insurance: http://www.studentsabroad.state.gov/
**Whether on Wesleyan-administered or -approved programs, students are responsible for obtaining their own passports and student visas for travel abroad unless they are specifically informed otherwise by the program directors.
**Students are also responsible for their own health insurance if the program does not provide it. One option is to purchase the student insurance plan available through Wesleyan. We also strongly encourage the purchase of an International Student Identity Card, available through the OIS. In addition to discounts on travel and activities, this card provides some insurance coverage, including medical evacuation and repatriation.