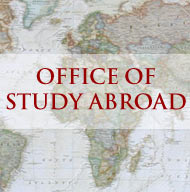 General Credit for Study Abroad
Credit will be given toward graduation for all appropriate courses (that is, courses in the liberal arts for which there is a department at Wesleyan) taken on Wesleyan-administered or -approved programs abroad. If in doubt regarding whether a course or research abroad is eligible for Wesleyan credit, the student should consult the OIS before beginning the course or research.
Students must get approval for their proposed program from their major advisor or department chair, or, if they have not yet declared a major, from their faculty advisor. Special rules apply to internships, which must be pre-approved by a department for credit, even for credit outside the major; see below for further information on internships. Students must enroll for the equivalent of four Wesleyan credits for each semester abroad. Permission for a fifth credit for any given semester may be granted by the program director in the case of Wesleyan-administered programs, and by the Director of International Studies for Wesleyan-approved programs.
Transfer of credit from study abroad during the academic year is processed by the Office of International Studies. Wesleyan students must request that program transcripts be sent to the OIS, and must complete program evaluations before credit is posted to their permanent Wesleyan transcripts, where courses appear with a departmental designation, title, credit weight, and grade. Grades are reported on the Wesleyan transcript and factored into the student's overall GPA. All courses including internships must be taken A-F unless this option is not available, but credit for internships will appear on the Wesleyan transcript with CR only. COL majors should consult with the department for grading mode information. Some modifications in grading systems for study abroad have been found necessary, and A+ grades received abroad will be posted to the Wesleyan transcript as A grades.
Credit on approved programs may be measured differently than at Wesleyan, often in semester credits or, for students enrolling directly in foreign universities, in other units. See "Modes of Credit" below for further detail. One Wesleyan credit is the equivalent of 4.0 semester-hour credits; students are required to enroll in a minimum of 15 semester-hour credits, which is equivalent to a full Wesleyan load of 4 credits. Students should be sure before they leave Wesleyan that they understand the credit system of the institution giving them credit abroad; the OIS can provide this information and explain how courses will be weighted. The OIS ensures that courses and grades are entered on the Wesleyan transcript by the Registrar.
Upon completing their period of study abroad, students will be required to complete an evaluation for the program they attended, to ensure that current information about programs is always available to the Committee and to prospective participants. When the evaluation is returned to the OIS, credits will be transferred.
Students who must make changes in their curricular plans after arriving because of alterations in academic schedules must consult the OIS immediately, preferably by e-mail (gwinter@wesleyan.edu) or fax (860-685-2551). They are expected to choose a replacement course or courses compatible with the plans previously approved by the major advisor. The Office can then check with the student's advisor about the change and seek approval where necessary. Alternatively, the student can communicate through a faculty or departmental advisor, who is then asked to inform the Office. Credit for unapproved courses will not be transferred to the Wesleyan transcript, and there can be no retroactive approval after the student's return to campus. It is therefore particularly important that students communicate with the Office if in any doubt about their curriculum abroad.
Both before leaving and once abroad, students should contact the OIS with questions about major credit, general education credit, or graduation credit for courses taken abroad during the academic year.
Internships
In most cases, students are discouraged from taking internships for credit; reports from returned study-abroad participants often indicate that internships are disappointing experiences and/or not academic in nature. This is not always the case, however, and a few internship programs are included on the List of Approved Programs. Credit-bearing internships must be taken for a grade, although only a CR will appear on the Wesleyan transcript. No internship can be given more than 1 Wesleyan credit. To earn credit, the internship must require extensive written work, such as a long paper evaluating the learning obtained through the experience.
Summer study abroad
The OIS does not oversee summer study programs abroad, although the Director occasionally consults with students, faculty, and the administration regarding individual programs or courses. Students may transfer to the Wesleyan transcript up to two credits taken abroad each summer. Students must have "Permission to Transfer Credit" forms completed by an academic department for up to two credits to be taken abroad. This must be done in advance, and cannot be done retroactively. These forms are filed with the Office of the Dean of the College, and the program transcript should be sent to that office. Because these are transfer courses, credit shows on the Wesleyan transcript as CR/U.
Modes of credit
Wesleyan-style credits: some institutions use the same credit weight system used by Wesleyan, in which case the weight of credit is identical. All Wesleyan's programs, and programs abroad run by these and some other schools, use this system:
ACTR
Associated Colleges in China
Associated Kyoto Program
Augsburg College
Brown University
Duke University (including ICCS Rome)
IHP (Rethinking Globalization)
Kalamazoo College
Middlebury College
Pitzer College
St Lawrence University
Swarthmore College
Wellesley College
Semester-hour credits: the majority of American institutions use the "semester-hour credit" system. A full course load for a semester, in this system, is 15-16 credits. Many courses in this system carry 3 semester-hour credits, such that a full course load is 5 courses. For programs using this system, some adjustment in the weight of the 5 courses is necessary to make the equivalent of the 4-course Wesleyan full course load. Each Wesleyan unit of credit is worth 4.0 semester-hour credits. Various factors are taken into account when making this adjustment, and students should discuss their specific expectations with the OIS. It should be noted that, for programs which include a language course (eg. Denmark, Nepal, Hungary), full weight is always given to that course. To the extent possible, we try to give full credit for courses that will earn major credit as well. Some institutions and programs using this system are:

American University in Cairo
Antioch University
Arcadia's CEA (Ireland and Wales)
Bard-Smolny in Russia
Boston University
Budapest Seminars in Mathematics
IFSA-Butler (UK, Australia, New Zealand)
Council on Internat'l Educational Exchange
Denmark International Study Program
IES Nagoya
International Christian University
Israeli universities
School for Field Studies
School for International Training
Syracuse University
The Swedish Program
University of Kansas
University of Wisconsin-Madison
Yonsei University
Other credit systems: Students enrolling directly at a university abroad should be aware that there is considerable variation in weighting of courses, not only from institution to institution but sometimes from one school or faculty of an institution to another. Many European universities now use a system that awards 120 ECTS (European Credit Transfer System) credits for a full year; since British universities use a trimester system with teaching periods of different lengths, equivalence can be complicated for semester students (a semester load is 60 units). At some campuses of the National University of Ireland, students take as many as 8 courses, each worth about 0.5 Wesleyan credit. IFSA-Butler and Arcadia translate these courses into the semester-hour credit system. There also are a few institutions that still use a 3-term quarter system (such as KCJS).
Most institutions now give study abroad participants informational materials that provide some guidance on the relevant credit system. The OIS will work with each student to be sure that everyone is clear about what constitutes a full course load. Students are encouraged to call or e-mail the OIS with questions, once they have registered for courses, regarding the amount of credit they will receive and its distribution.
Students are invited to contact the OIS with questions or concerns once their grades have been transferred to their Wesleyan transcript. In some but not all cases, the OIS has flexibility about the distribution of credits, and, as needed, can work with students to determine the appropriate credit distribution.