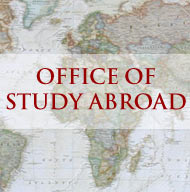 Petitions
If you want to earn Wesleyan credit for participation in a program not on the Approved List, you must petition the Committee on International Studies for permission. Deadlines are earlier than for permission to participate in an approved program (February 15 for fall and full-year programs, September 30 for spring programs). Before submitting a petition, you must speak with Professor Antonio Gonzalez, Interim Director of International Studies, about the program you wish to petition; he will explain the process, discuss with you your reasons for wishing to attend the program, review the program with you and, based on past petitions, try to give you some sense of the Committee's likely response. 
The Committee on International Studies is a faculty committee that meets every other Wednesday during the school year. Decisions made will be communicated to petitioners the day after the meeting whenever possible. If the Committee is unable to review all pending petitions in a given meeting, some petition decisions will be postponed to the following meeting. The Committee may approve or deny a petition, or may ask for further information from the petitioner, Professor Gonzalez, or a faculty member.
For a petition to earn approval, the program must be offered by a reputable provider; Professor Gonzalez will gather anecdotal evidence about the program from colleagues at peer institutions, as well as review the program through its own published material, and will share this information with the Committee. In addition, the petitioner must make the case, in the academic justification, for the relevance of this program to his/her academic goals at Wesleyan. The Committee on International Studies will consider whether relevant preparatory coursework has been taken, whether the petitioner has sufficient language skills for the proposed program (where relevant), and whether the courses proposed are of an academic level and topic appropriate to a Wesleyan degree-seeker.
If a petition is approved, the relevant program will be treated, for the petitioner and the designated time period only, as any other Wesleyan-approved program in terms of graduation credit and payment (including financial aid). If a petition is not approved, the petitioner will not be eligible to earn Wesleyan credit for participation in that program.
Petitions also must be submitted by students wishing to participate in approved programs when those students do not meet Wesleyan's criteria for participation therein. The most common reasons for such petitions are insufficient language background and academic majors other than those specified for the program or by the Approved List description.