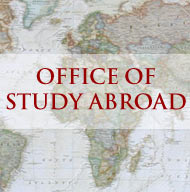 Application Procedures and Policies
THE ONLINE APPLICATION for WESLEYAN STUDENTS
Wesleyan students apply for permission to study abroad by submitting the Initial inquiry form, available through their electronic portfolio.  After submitting this form, they must attend an advising session in the Office of Study Abroad, during "drop-in" hours. All other online application materials will be made available to students via the electronic portfolio after the advising session.   
Deadlines for completing the application process are as follows:
For spring Wesleyan administered programs: October 1
For spring study abroad on all other programs: October 15
For fall or full year study abroad: March 1
Wesleyan students applying to Wesleyan-administered programs in Bologna, Italy, Madrid, Spain, or Paris, France need only to submit the application available through their electronic portfolio.
In addition to submitting Wesleyan's own online application, students applying elsewhere must contact the sponsoring institution regarding its own application form and procedures. Acceptance for study with other programs ultimately depends on that program's admissions committee. Wesleyan students must satisfy all requirements, comply with all specific policies and regulations and follow all application procedures set by both Wesleyan's OIS and the program itself.
NON-WESLEYAN STUDENTS
Wesleyan University welcomes applications from qualified students from other institutions insterested in a semester or year-long experience on any of the following: 
Eastern College Consortium (ECCo) in Bologna
Vassar-Wesleyan Program in Madrid
Vassar-Wesleyan Program in Paris 
For deadlines, applications forms, and contact information, visit: http://www.wesleyan.edu/ois/forms/wesadministered.html.
ELIGIBILITY
Students planning to apply must be in good academic and disciplinary standing, when applying and at the time of their departure.  All Wesleyan academic regulations apply to students studying for Wesleyan credit abroad.
Permission to study abroad will be denied or revoked in the following circumstances:
- Disciplinary proceedings filed after the approval to study abroad has been granted;
- Failure to resolve any incomplete or any grade of X or AB by two weeks prior to the beginning of the program.
- Failure to resolve a delinquent balance in the student's Wesleyan account the semester prior to studying abroad.
Students wishing to study abroad following a medical leave must petition for permission to do so.
Application to study abroad includes a Standards of Conduct Pledge. This pledge holds students accountable to Wesleyan's Honor System and Code of Non-Academic Conduct. Infractions abroad may result in Honor Board or Student Judicial Board charges and potentially expulsion from the program.
Students required to resign from Wesleyan may not use study abroad as a way of gathering the credit needed to return, unless they are citizens of the country in which they wish to study. In that case, their credit taken abroad is processed as if it were domestic transfer credit, through the Registrar's office and not through the Office of International Studies..
Students who accept positions as head residents for a particular academic year are not eligible to study abroad during that time, since their commitment in accepting that position is for an entire year.
PASSPORTS & VISAS
In order to study abroad students must have a valid passport that will not expire over the ensuing year. Most will also need a student visa, for which a valid passport is required. In order to obtain a visa, the passport expiration date must not fall within the first six (6) months after the end of the program.
If you are contemplating study abroad apply for a passport immediately. If you have a passport that will expire less than 6 months after the end of the program, it is imperative that you apply to renew it immediately.
The visa application process can be time-consuming and requires a valid passport that will not expire during your time abroad. Students should therefore apply for their passport early and expedite it as quickly as possible. Students are responsible for obtaining their own student visas for study abroad unless they are specifically informed otherwise by the program.
Passport applications may be obtained at U.S. Post Offices. Relevant information is also available online at: http://travel.state.gov/content/passports/english/passports/apply.html
HEALTH, SAFETY & MEDICAL INSURANCE
As part of their application students seek clearance to study abroad from Wesleyan's Davison Health Center and CAPS (Counseling & Psychological Services). Confidentiality laws prohibit the OIS staff or the program staff abroad from having access to students' private medical history. For their own well-being, students are strongly encouraged to discuss voluntarily any health-related concerns or disabilities with their home-campus study abroad officer prior to departure and with the program director upon arrival abroad.
Health insurance is required for all students studying abroad. Students not covered by either Wesleyan's student insurance or their family policy must purchase health insurance prior to departure.
Students should also purchase the International Student Identity Card (ISIC), available through the OIS. In addition to discounts on travel and activities, this card provides supplemental insurance coverage, including medical evacuation and repatriation.
TRAVEL WARNINGS
The US Department of State issues Travel Warnings when conditions make a country dangerous or unstable or due to the closing of an embassy or consulate.
When planning to study in a country with a US State Department Travel Warning, students and their parent must sign a country-specific waiver of liability, to which the OIS will attach a copy of the relevant Travel Warning. Students considering study in such countries are strongly urged to read the relevant US State Department Travel Warning and also the British and Canadian equivalents, which can be found at https://www.gov.uk/foreign-travel-advice and http://travel.gc.ca/travelling/advisories.
NON-US CITIZENS
Janice Watson, Coordinator of International Student Services (x3704; North College) will counsel non-US citizens on how to stay in compliance with US immigration regulations while abroad. She will also aid permanent residents of the United States in obtaining a visa for their country of destination.
CRUCIAL NOTIFICATIONS FOR NON-WESLEYAN PROGRAMS
In order to participate on a non-Wesleyan program, students must submit a copy of their acceptance letter with a notation that they plan to attend said programs. Failure to do so may result in the permission to study abroad being revoked.
Once students settle in their destination, they are expected to forward their contact information (address, telephone number) to the OIS for inclusion in their files. The OIS will communicate with students abroad via email, keeping them abreast of events at Wesleyan and addressing logistical and adaptation issues during their stay abroad.
Students deciding at the last minute not to participate on a program are required to notify the OIS promptly, in order to facilitate arrangements for their return to campus.