Catholic Life at Wesleyan
The Catholic Student Organization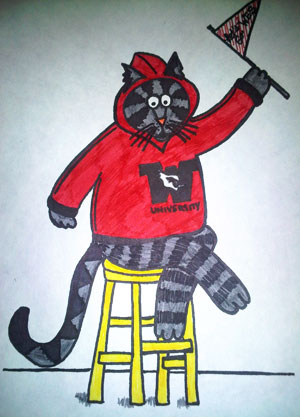 Wesleyan has a large network of student organizations funded by the University and student run. The Catholic one, the CSO, is important because it is student led and represents the interests of its members to the rest of the University. Budgets, access to  publicity, and enhanced dialogue with the University are enriched by the participation of the CSO.
The informal name for the Catholic students is Wes Cats. The cat here is a Wes Cat. The cat is a mascot and a logo. The Wes Cat will appear on give aways and posters. Go Wes Cats.
Sunday Mass
Mass is celebrated during the semester in the Memorial Chapel at 8 p.m. You are most welcome to function as a lector, acolyte, greeter, musician, and Eucharistic minister.
Town and Gown
St. Vincent de Paul is a popularly supported town effort : food pantry, counseling, soup kitchen. Because of the variety of services, it is possible for students to serve at a time, place, and with a skill that suits them.
Eucharistic Ministers
Students are needed in a nearby assisted living facility to lead a simple Communion service and bring the Eucharist to the folks living there.
Junior Year Abroad
If you are thinking of a year abroad, you are invited to investigate resources in your new situation. There are Catholic parishes and organizations  who want to welcome you.
Confirmation?
Some Catholics here decide to be confirmed. This is a small no-drama, adult program that allows you to explore your own questions before moving another step into your Church. Confirmation is not an "adulthood" and ready to commit type of thing. If it were, you would be best to put it off until you were at least forty years old. It is a sacrament of initiation. You have received two sacraments like this (if you are Roman rite) and may be ready for the third. Eastern Catholics received all three together when they were babies.
The E-mail List
In your student portfolio, you will have a chance to be on a listserv. This will keep you up to date on opportunities to serve and to attend Mass and other events. If you do not want to be on this list, you can easily drop off by following instructions at the bottom of the initial page. However, the Catholic program is Do It Yourself so the e-mail is the best way to look at the Menu. You may be surprised  at what is being offered.