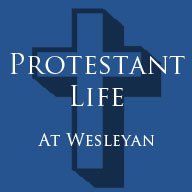 Events
The Protestant Community provides a weekly worship service, bible studies, times of prayer, and other programming to enrich the spiritual life of students and expand intellectual endeavors beyond the classroom.
Holy Week Schedule 2014
Protestant Good Friday Service
Friday, April 18, 2014; 6:00pm
Meditation Room (in the lower level of Memorial Chapel)
Protestant Easter Resurrection Service and Reception 
Sunday, April 20, 2014; 2:00pm
Memorial Chapel, with reception in Zelnick Pavilion
Roman Catholic Good Friday Service
Friday, April 18, 2014; 12:00pm
Memorial Chapel
Roman Catholic Easter Mass
Sunday, April 20, 2014; 8:00pm
Memorial Chapel
Ongoing Events
ECUMENICAL GATHERING TIME (aka Community Dinner)
Sundays (when classes are in session; we will not be meeting on 4/27 due to the service project on Saturday, 4/26)
5:00 - 6:30pm
Allbritton 311
This is a time where students gather together with the Protestant Chaplain for Scripture, prayer, and food.  The Sunday community dinner is a safe, sacred place to grow in faith and fellowship with others, and the participants represent a wide diversity of Christian theology, beliefs, and practices. We extend an invitation to students, faculty, administration, and staff to join us! The weekly Sunday gathering time is at 5pm and is held when classes are in session. For more information or if you are interested in participating in worship leadership, please contact Rev. Tracy Mehr-Muska, the Protestant Chaplain, at tmehrmuska@yahoo.com.
EVENING COMPLINE SERVICE
Thursdays (4/3, 4/17, and 5/1)
10:00pm
Memorial Chapel
A compline service is a Christian Service that concludes one's day and is intended to be contemplative and peaceful.  We are fortunate that it is offered here, thanks to the commitment of a gifted musician Brian Parks.  It is held weekly on Thursdays at 10 pm in Memorial Chapel.  Please consider attending this meaningful service which runs about 15 minutes.  If you would like to be added to Brian's mailing list which would inform you of the schedule and cancellations, please contact him at bparks@wesleyan.edu.

Upcoming Special Events
Guest speaker at Community Dinner:  Rev. Amber Remillard from Hartford Seminary
Sunday, April 6, 2014; 5:00pm
Allbritton 311
Rev. Amber Remillard from the Admissions Office of Hartford Seminary will lead a discussion about vocational discernment as well as ministry vocations (professional and volunteer); come reflection on your questions about summer jobs, course selection, volunteerism, and the choosing of majors in light of God's will for your life!

Food Packing Project with "Feeding Children Everywhere"
Saturday, April 26, 2014; 2:15pm
Westminster Presbyterian Church in West Hartford, CT
The van will depart Lot C at 2:15pm; please RSVP to Rev. Tracy so we can save a seat for you!!  Dinner is included.


Past Events
Special Services/Events Held Annually
Welcome reception for new students during Freshman Orientation
Homecoming and Family Weekend Ecumenical Worship Service
Veritas Forum
Christmas Service of Lessons and Carols
Good Friday Service of Scripture and Meditation  
Easter Sunday Resurrection Service and Ecumenical Reception
Reception for prospective students during WesFest
Celebrating Multiculturalism
Celebration of Gospel, 2013
Caribbean Worship: Encounter God's Presence, 2011
Celebrating the Black Church, 2008
Emerging Voices, 2009
Gospel Extravaganza, 2009-2010 
Previous Lectures/Events
Desire and Relationship:  What's Love Got To Do With It?, February 2014:  Office of Religious and Spiritual Life, Wesleyan's Career Center
Marching On:  A Conference on Gun Violence Prevention, September 2013: 

Governor

Dannel

Malloy

, Senator Richard Blumenthal, and Senator Chris Murphy
Mapping the Origins Debate: Six Models of the Beginning of Everything, April 2013:  Gerald Rau
Not Afraid of Darwin or Christ:

Webinar

with Princeton Theological Seminary, April 2013
Celebrating 180 Years of Protestant Religious Life at Wesleyan, 2011
The Politics of Jesus: Rediscovering the True Revolutionary Nature of What Jesus Believed And How It Was Corrupted, 2008: 

Obery

Hendricks

Jr.
True For You… But Not For Me: Is There Wisdom in Relativism?
American Grace: How Religion Divides and Unites Us, 2011:  David Campbell
Service Projects
Annual Rocky Hill Veteran's Home visit for Veteran's Day, 2012-13
March For Change Rally in Hartford, 2013
First Baptist Church Soup on Sunday, 2009-2010
Haiti Relief, 2009-2010
Gulf Coast Service Spring Break Trip, 2008-2014
Thanksgiving Feeding Families, American Red Cross Middlesex Central Connecticut Chapter, 2010-11
Ugandan Orphanage, 2010