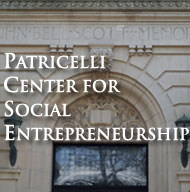 2013/2014 Advisory Board
The Patricelli Center Advisory Board, consisting of alumni, parents, faculty, students, and staff, guides the work of the Center. The board meets twice each year, and members serve as speakers and mentors for PCSE programs.
Phoebe Boyer '89, Senior Advisor, Robertson Foundation; former Trustee, Wesleyan University

Phoebe Boyer is the Executive Director of the Tiger Foundation and Robertson Foundation, where she is responsible for the overall management of both Foundations.

Prior to joining the Foundations, Ms. Boyer identified and secured private funds for The After-School Corporation (TASC), an organization established to enhance the quality and availability of after-school programming. Before joining TASC, Ms. Boyer was the Assistant Executive Director of Inwood House, a social service agency that works with pregnant and parenting teens. She also has several years of experience in the public and private sectors. Ms. Boyer received a Bachelor's degree from Wesleyan University and a Masters in Business Administration from Columbia University. She currently serves as the Board Chair of the New York City Charter School Center and as a board member at Mount Desert Island Biological Laboratory and Wesleyan University. She is a member of the inaugural class of the Aspen Institute NewSchools Fellowship: Entrepreneurial Leaders for Public Education.

Ms. Boyer lives in Manhattan with her husband and two children.
Carl Byers '93, Venture Partner, Fidelity Biosciences; adjunct lecturer in public policy, Harvard Kennedy School

Carl Byers is a Venture Partner at Fidelity Biosciences, a healthcare focused venture capital fund. In addition, he is Adjunct Lecturer in Public Policy at the Harvard Kennedy School, where he teaches a course in Entrepreneurial Finance. He serves as an adviser to early stage health and social ventures. From 1997 to 2010, Byers served as Chief Financial Officer at athenahealth, Inc. (Nasdaq: ATHN), where he was a member of the founding team. He led the company's Initial Public Offering in 2007, which The Wall Street Journal named as the year's most successful. After athenahealth, Byers worked as a consultant in micro-finance (in Chile) and as the financial officer of a health and water related social venture (in India). Prior to the founding of athenahealth, Byers was a management consultant at Booz, Allen & Hamilton in New York. He is a graduate of Wesleyan University, where Byers earned a B.A. in the College of Social Studies. He was a Business Fellow at The University of Chicago's Booth School of Business. He also earned a Masters in Public Administration from the John F. Kennedy School of Government, Harvard University. Byers is on the board of the MINDS Foundation and is a trustee of Lexington Montessori School. He lives in Lexington, MA with his wife and three children.
Sharon Belden Castonguay, Director, Wesleyan Career Center

Sharon Belden Castonguay, EdD, joined Wesleyan in May as the Director of the Career Center. She was previously the Director of the Graduate Career Management Center at Baruch College, Zicklin School of Business, in Manhattan. She has also served as an assistant director for PhD career advising at Harvard, where she worked with students seeking to transition from academe to business. Prior to Harvard she was an assistant director of graduate career services at the Boston University School of Management, where she taught a course in career development. Through her career consulting practice, SBC Career Consulting, she has been an invited speaker at Princeton, Columbia, Dartmouth, Harvard Medical School, and the New York Academy of Sciences, among others. She received her doctorate in human development from Harvard, where her research focused on how businesspeople make career decisions. She also holds an MA in Education from the University of Michigan and a BA in Government from Smith College.
Marcus Chung '98, Vice President of Social Responsibility and Vendor Compliance, Children's Place

A recognized leader in corporate social responsibility (CSR), Marcus has held CSR roles at Gap, McKesson and Talbots. Marcus serves as Vice President, Social Responsibility & Vendor Compliance for specialty apparel retailer The Children's Place, leading a global team responsible for protecting garment workers' rights and minimizing environmental impact in the company's supply chain. Through partnerships with local and global stakeholders, leadership in industry associations and integrating CSR throughout the company, the Social Responsibility & Vendor Compliance team seeks to create opportunities where both the company and communities can benefit and thrive.
Lara Galinsky '96 (Co-chair), Senior Vice President, Echoing Green Foundation

Lara is an author, speaker, expert on working on purpose, and senior vice president of Echoing Green, a groundbreaking nonprofit organization with the mission to unleash next generation talent to solve the world's biggest problems.


She speaks and leads workshops at colleges, universities, corporations, and nonprofits around the world. Two themes run through Lara's career: helping individuals identify their unique role within the ecosystem of social change; and recognizing and championing promising social innovators working to solve the mostly deeply entrenched social, political and environmental problems of our time.

Lara began her career at Do Something, where she was a national program director. There she worked with 20,000 educators and 4 million young people to organize service learning and community service projects. Lara also created Do Something's BRICK Award (now called the Do Something Award) to celebrate and financially support the most outstanding young leaders in America generating community change with demonstrated impact.

After five years at Do Something, Lara moved to Echoing Green, the organization she now helps lead and for which she runs the day-to-day operations. Echoing Green is best known for its flagship Fellowship program, which has awarded over 500 emerging social entrepreneurs in over 40 countries with more than $30 million in seed funding over the last twenty-five years.

Most recently, Lara launched Echoing Green's newest program, Work on Purpose, which inspires and equips the Millennial generation to build lives and careers that are both right for them and good for the world. She is the co-author of two books that have become cornerstones of the program: Work on Purpose (2011) and Be Bold: Create a Career with Impact (2007).

Lara sits on the advisory boards of the Lewis Institute at Babson College and the Patricelli Center for Social Entrepreneurship at Wesleyan University. She received her Masters in Communications with honors from Columbia University and her Bachelors from Wesleyan University, where she was elected to Phi Beta Kappa. She is a graduate of the Institute for Not-for-Profit Management Leadership Development Program at Columbia University, the Public Policy Institute at Georgetown, and was selected for CORO Leadership New York.

One of Lara's favorite quotes sums up her career ideology: Be bold and mighty forces will come to your aid. - Basil King
Joyce Jacobsen, Andrews Professor of Economics and Dean of Social Sciences & Interdisciplinary Programs, Wesleyan University
Ellen Jewett '81 P'17, Managing Director, BMO Capital Markets; Trustee, Wesleyan University

Ellen Jewett is a Managing Director and Head of Government & Infrastructure within BMO Capital Markets' Public Finance Group. Before joining BMO in 2010, she spent 20 years holding various positions within the public finance department of Goldman Sachs & Co. Most recently, she headed the public sector transportation group and, as such, was involved in a wide range of financings, including developing public private partnerships as well as innovative project financings. She served as senior managing underwriter for over $25 billion municipal revenue bond issues, leading teams to develop, evaluate and bring to market all types of investment grade revenue securities.

In July 2011, she was appointed to the Board of Directors for JetBlue Airways where she serves on the Audit Committee. She serves on several not-for-profit boards. She is Vice Chair of the Board of Wesleyan University where she has chaired the University Relations Committee and was a member of the Presidential Search Committee in 2007/8 and is a longstanding member of the Investment Committee. She is also the Vice Chair of the Board of Grace Church School and has served as founding chair of Columbia-Presbyterian's Sloane Hospital for Women Advisory Council, and as a member of the board of the Planned Parenthood of NYC. Additionally, she serves on the advisory board of Shining Hope, as an advisor to Echoing Green and is a founding member of Greater NY, a program under Mayor Bloomberg that matches business executives to not-for-profit executives.

She earned a Masters in Public and Private Management from Yale University, MSc in Psychoanalytic Theory at University College London and a BA from Wesleyan University in Government.

She lives in New York with her husband, Richard Kauffman, and two children.
Bob Miller P'02 P'99, Former Silicon Valley CEO; Chairman Advisory Board Center for Non-Profit and Public Leadership, Haas School of Business UC Berkeley

Bob Miller is a former business executive and for over 10 years was CEO of Silicon Valley companies specializing in computer systems and services and environmental services. Since 1998 he has focused on the social sector. Previous affiliations include CEO of Entrepreneurs' Foundation and board member of Options Recovery Services, AspiraNet, TechCorps California and the Alameda County Foster Youth Alliance. He currently chairs the Advisory Boards of the Center for Nonprofit and Public Leadership at UC Berkeley's Haas School of Business and of Mouse Squad of California. Bob received a BS from University of Oregon and an MBA from UC Berkeley and was recently named Alumni Fellow for Career Achievements, by the College of Arts and Sciences, University of Oregon. Bob and his wife Cathy live in Oakland, California.
Kennedy Odede '12, Co-founder, President & CEO of Shining Hope for Communities

Kennedy Odede is an internationally recognized community organizer and social entrepreneur.  Kennedy was born and lived for twenty-three of his twenty-seven years in the Kibera Slum, the largest slum in Africa. As the oldest of eight children, he assumed responsibility for his family at the age of ten.  The first time Kennedy ever had extra money—20 cents in 2004—he bought a soccer ball and started Shining Hope for Communities. As President & CEO of Shining Hope, Kennedy started The Kibera School for Girls, the slum's first tuition free school for girls. Under Kennedy's leadership Shining Hope has also opened and runs a community health clinic, built eco-friendly toilets, and operates a community center from which we run extensive community programming such as health care and education outreach, gardens, gender violence support groups, microenterprise and entrepreneurship, literacy/computer training, and creation of hundreds of jobs. Kennedy was awarded the 2010 Echoing Green Fellowship, which is awarded to the world's best emerging social entrepreneurs.  He won the 2010 Dell Social Innovation Competition, wrote an Op-Ed that appeared in the New York Times, and is a member of the Clinton Global Initiative. Kennedy speaks six languages, and is one of very few people from Kibera to ever attend an accredited four-year college—Wesleyan University—where he is a senior. Kennedy is also a senior fellow with Humanity in Action, and has been featured by Nicholas Kristof and on CNN and NBC Nightly News.
Robert Patricelli '61 P'90 P'88, Chairman and Chief Executive Officer of Women's Health USA; Trustee Emeritus, Wesleyan University

Robert E. Patricelli is Founder, Chairman and Chief Executive Officer of Women's Health USA, provider of business services to health care professionals. Its principal subsidiaries are Women's Health Connecticut and In Vitro Sciences.

Most recently, Bob founded and was CEO of Evolution Benefits until July of 2011; he still serves as Vice Chairman of the board. That company was sold to Genstar Capital in July, 2010. Prior to forming Women's Health USA and Evolution Benefits, Bob was Founder, Chairman, President and CEO of Value Health, a NYSE company and the nation's leading specialty managed care company. In 1997, Value Health was sold to Columbia/HCA Healthcare Corporation.

From 1977 to 1987, Bob served in a variety of positions at Connecticut General Corporation and its successor, CIGNA Corporation, culminating as Executive Vice President of the parent company and president of its health care group. Prior to CIGNA, Bob held appointments in numerous positions in the Federal Government, starting as a White House Fellow and serving as Minority Counsel to a U.S. Senate Subcommittee, Deputy Under Secretary for Policy at the Department of Health, Education and Welfare, and as Administrator of the Urban Mass Transportation Administration. He is a graduate of Harvard Law School and Wesleyan University, and was a Fulbright Scholar at the Institut d'Etudes Politiques of the University of Paris.

Bob is a member of the Board of Directors of Northeast Utilities, Newman's Own Foundation, Newman's Own, Inc., the Bushnell Center for the Performing Arts (where he is chairman), and the Connecticut Science Center. He is also a member of the Institute of Medicine of the National Academy of Sciences, and the Executive Council of the Harvard School of Health Policy and Management. Bob and his wife Margaret are also board members (Margaret is chair) of Shining Hope for Communities, founded by Wesleyan students Kennedy Odede and Jessica Posner.
Muzzy Rosenblatt '87, Executive Director, Bowery Residents Committee

Muzzy Rosenblatt is the Executive Director of BRC, the Bowery Residents' Committee, one of New York City's most comprehensive housing and social services agencies. Since arriving in 2000, Muzzy has led the agency through a period of growth that has strengthened its financial condition, improved the quality of services provided, and established BRC as a leader and innovator among not-for-profit social services agencies. Now with 27 programs that graduate more than 3,000 people each year into jobs, homes, and new lives, BRC has an enormous and increasing impact on the people it serves.

From 1988 to 1999, Muzzy held several positions in New York City government, including First Deputy Commissioner and then Acting Commissioner of the New York City Department of Homeless Services. Muzzy received his MPA from the Wagner Graduate School of Public Service at New York University (1992), and his BA from Wesleyan University (1987). He is a native New Yorker, and resides in Forest Hills, New York.
Ilene Rosenthal '74 P'17 CEO and Founder, Footsteps2Brilliance

Ilene Rosenthal is the CEO and Founder of Footsteps2Brilliance™, a breakthrough Early Learning Mobile Game Platform for pre-K through 3rd grade that accelerates student achievement by uniting the power of mobile gaming with the latest in cognitive research. Footsteps2Brilliance™ recently won several prestigious awards including the SIIA award for "Innovative Company Most Likely To Succeed", Codie finalist for "Best K-12 Instructional Solution", AEP award for "Best ESL/ELL Educational Solution", and "Golden Lamp Award" finalist.

Ilene previously served as President of Strategic Initiatives for Achieve3000, and co-founded Lightspan, an educational software company that successfully bridged school and home using videogame technology. She is recognized as a leader for her innovative work using game methodology to increase time spent on learning and accelerate student achievement.

Ilene began her career as a teacher, during which time she designed curriculum and authored textbooks. In her capacity as a lawyer, she has served as General Counsel to the Government Operations Committee of the U.S. House of Representatives, and as an Assistant United States Attorney in the District of Columbia. She also served as General Counsel to the Software Publishers Association (now SIIA) and Special Assistant to the Council of Chief State School Officers (CCSSO).

Ilene received her J.D. from Georgetown University and her B.A. from Wesleyan University in Middletown, Conn. She serves on the Boards of the E L Haynes Public Charter School and New Futures, and has two daughters adopted from China.
Rob Rosenthal, John E. Andrus Professor of Sociology, Wesleyan University

Rob Rosenthal, John Andrus Professor of Sociology, stepped down as Wesleyan's Provost and Vice President of Academic Affairs in June 2013, and he will begin a term as Director of the Allbritton Center in July 2014.  He received his Ph.D. from the University of California, Santa Barbara, and has been at Wesleyan since 1987.  He writes and teaches in the areas of housing, homelessness, community research, and the use of music in social movements.  He's the author of Homeless in Paradise, co-winner of the Association for Humanist Sociology Book Award (1994-95) and, with Richard Flacks, Playing for Change (2011); he's currently working on an edited collection of the papers of Pete Seeger.  A winner of the Binswanger Excellence in Teaching Award in 2000 and the Connecticut Department of Higher Education's "Leadership in Community Service" award in 2008, Mr. Rosenthal has worked for the past twenty years with community groups in Middletown, CT, including as one of the founding directors of Wesleyan's Center for Community Partnerships.
Sarah Williams '88 (Co-chair), Co-founder, Advective Fund, a philanthropic and impact investing fund; Principal, Sarah Williams Consulting

Sarah Williams directs her own consulting business – working with foundations, donors, social investors, and corporations to help them give and invest smartly and strategically. She builds and manages grant and impact investing portfolios in areas including poverty alleviation, women's rights, prison education, and social entrepreneurship, among others.

With Jeremy Mindich, Wesleyan '87, Sarah founded the Advective Fund, an impact investment fund that supports and invests in social entrepreneurs. In 2011, she launched, for ImpactAssets, the IA 50, a resource for investors that lists the most experienced impact investing fund managers in the US. Her clients have included the Calvert Foundation, ImpactAssets, KPMG, Pfizer, the Brooklyn Community Foundation, family foundations, and individual donors and investors.

Prior to her consulting career, Sarah spent 10 years creating and directing philanthropy programs for Pfizer Inc. She was responsible for the establishment of The Pfizer Foundation, which was, at its inception, the largest corporate foundation in the United States with over $320 million in assets. She developed public-private partnerships in international health in the US and around the world. Sarah also designed, launched, and managed partnerships in K-12 education in schools across the country, including initiatives in science and math education, support for alternative schools, and new approaches to teacher training.

Sarah has worked in public education, designed HIV education programs, organized for pro-choice candidates, and served in senior management and board positions for a variety of nonprofit organizations. Sarah graduated from Wesleyan University and was a Coro Fellow in Public Affairs. She lives in Brooklyn, NY with her husband, Andrew Kimball, and their two sons.