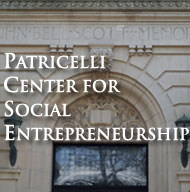 Seed Grant Application
Applications Due: Sunday, January 25, by 11:59 p.m.
Please fill in the form below and upload one PDF document that includes:
Name, class, major, and email address for each team member
Photo of team members (individually or in a group)
Resume for each team member
Project/venture logo (optional)
Answers to the 5 essay questions (no more than 500 words total)

Describe the social problem that your project or venture will address.
Describe your innovative project/venture idea and the impact it will have.
Describe your team's strengths and qualifications that specifically prepare you for success with this project. (Why you, why now?)
Are there other organizations tackling the same problem? How is their approach different from yours?
How has your project been shaped by your Wesleyan experience? (Don't be generic. Be specific.)
Please use your Project/Venture name as the file name for this PDF.