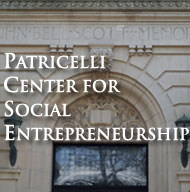 Seed Grant Challenge
The Patricelli Center for Social Entrepreneurship will award three $5,000 seed grants each year to fund the launch or early-stage growth of a Wesleyan-connected social enterprise, project, program, or venture. We encourage applications not only for the creation of new for-profit or non-profit organizations, but also to pilot programs that will exist independently or under the umbrella of an already-existing organization. Apply here.
What is the timeline for the 2015/2016 Seed Grant Challenge?

Throughout the year: Workshops and private mentoring through the PCSE

November: Round 1 application available on PCSE website

December: Information sessions (see ENGAGE blog for dates and times)

By December 31: Judges announced

January 24: Round 1 applications due by 11:59 p.m.

February 2: Up to six finalists announced; feedback from judges shared privately with all applicants

February 15: Round 2 applications due from finalists

February 26: Public presentations ("pitches") 12-1 p.m. and private finalist interviews 1:30-2:30 p.m.

By March 6: Up to three seed grant winners announced
Who is eligible for a PCSE Seed Grant?

Projects or ventures must:

address a proven social need
be scalable or replicable
have capacity for impact

Entries are not required to lead to a new organization or company; they can be new programs or projects implemented within an existing entity.  Those that are new ventures can be for-profit, non-profit, hybrid, or pilot projects with no legal structure at this time. Entries can be US-based or international.

Teams may be made up of one or more members, but at least one founding member must be a current Wesleyan undergraduate. Teams made up completely of Wesleyan students may have an advantage.
What does the Round 1 Application include?


Applicants will need to submit basic information about their project/venture, its parent organization (for projects that will reside within another entity), and all members of their leadership team. They will also have to address these 6 questions (no more than 600 words total):

Describe your project/venture and its general business plan (i.e. how it will function/operate). Describe and quantify its anticipated impact.
Explain the social problem that your venture will address. Include data to explain the scope and severity.
Who is on your team? What are your strengths and qualifications that prepare you for success?
Are there other organizations tackling the same problem? How is their approach different from yours?
How has your project been shaped by your Wesleyan experience? (Don't be generic. Be specific.)
If you receive a PCSE Seed Grant, how do you plan to spend the $5,000? (You can explain in a narrative or list an approximate itemized budget.)

Click here for the application form.
What are the judging criteria?

Judges will assess the applicant(s) and the idea(s). Quality of the idea, the execution plan, and the applicant or team will be most important in selecting grantees. Severity of the social problem and potential for impact will be secondary.

Characteristics that the judges will look for include:

The Applicant(s):

Purpose/Passion – commitment for the program area in which he/she plans to work, commitment to Wesleyan, personal integrity
Resilience – demonstrated ability to overcome obstacles
Leadership – demonstrated leadership and entrepreneurial potential

The Project/Idea:

Innovation – demonstrates a new approach
Importance – addresses a pressing social problem
Organization – clear and compelling mission, objectives, program operation, service delivery, data strategy, financial plan, etc.
Feasibility –  well-designed and could be rolled out effectively before December 31, 2016
Potential for Impact - has the potential to create big, bold change
Who are the judges?

2016 PCSE Seed Grant judges: 

Thank you to our 2015 PCSE Seed Grant judges:

Joaquin Benares '15, Founder of BUKO; 2014 PCSE Seed Grant winner
Marcus Chung '98, Vice President of Social Responsibility and Vendor Compliance, Children's Place; PCSE Advisory Board Member
Peter Frank '12, Founder and CEO of Texts.com
Lexy Funk '91, Co-founder and CEO of Brooklyn Industries; PCSE Advisory Board Member
Dan Gregory '78 P'07, Co-director of the Northeastern University Center for Entrepreneurship Education; Founding faculty advisor of IDEA
Rachel Hines '82 P'18, international monetary expert formerly with J.P. Morgan, World Bank, and USAID
Barbara Juhasz, Associate Professor of Psychology and Director of Service Learning, Wesleyan University
Anne Lebleu '00, Philanthropy Management Director, Arabella Advisors
Rob Rosenthal, Director of the Allbritton Center and John E. Andrus Professor of Sociology, Wesleyan University; PCSE Advisory Board Member
Melinda Weekes-Laidlow '89, Managing Director, Race Forward; Principal, Weekes In Advance Enterprises 
Sarah Williams '88, Co-founder, Propel Capital; Principal, Sarah Williams Consulting; PCSE Advisory Board Co-chair

Thank you to our 2014 PCSE Seed Grant judges:

Phoebe Boyer '89, Senior Advisor, Robertson Foundation; former Trustee, Wesleyan University; PCSE Advisory Board Member
Ali Chaudhry '12, Business Analyst at Deloitte Consulting; Founder and CEO of Possibilities Pakistan
Tim Devane '09, Entrepreneur In Residence, Red Sea Ventures; former Director of Sales & Business Development at bit.ly; president & co-founder of Birthright  Earth; co-chair of Digital Wesleyan
Lexy Funk '91, Co-founder and CEO of Brooklyn Industries
Amir Hasson '98, CEO of Oxigen America and Chief Development Officer of Oxigen India; judge and mentor for Harvard and MIT Business Plan competitions
Rachel Hines '82 P'18, international monetary expert formerly with J.P. Morgan, World Bank, and USAID
Makaela Kingsley '98, Director of the Patricelli Center for Social Entrepreneurship, Wesleyan University
Rob Rosenthal, John E. Andrus Professor of Sociology, Wesleyan University; PCSE Advisory Board Member
Maeve Russell '14, Executive Committee Member, Wesleyan Chapter of Shining Hope for Communities; Communications Intern, RefugePoint; Coordinator, Wesleyan's Office of Community Service
Marc Schleifer '95, Regional Director for Eurasia and South Asia at the Center for International Private Enterprise (CIPE)
Sarah Williams '88, Co-founder, Advective Capital; Principal, Sarah Williams Consulting; PCSE Advisory Board Co-chair
What happens if my project/venture is chosen as a finalist?

Up to 6 finalists will advance to round two. Finalists will be required to submit two recommendation letters and a detailed project plan that expands on the information submitted in Round 1. Recommendation letters from Wesleyan faculty and staff members are preferred but not required. Finalists will also give a public presentation and be interviewed privately by the judges.

For the project plan, format is flexible but it must start with a one-page executive summary and include a detailed budget (listing other potential funding sources), an overview of staffing and operations, and data to back claims. It could also include a list of mentors or advisors already on board and an explanation of how the project could engage the larger Wesleyan community. Maximum length is 10 pages, but it does not need to be that long. 

Presentations will be open to the entire Wesleyan community. They will be recorded and webcast. Each finalist team will have up to 8 minutes to pitch their project. Slides and videos are optional. Attendees will have an opportunity to vote for their favorite projects, and judges will take these votes into consideration when selecting winners.

The finalist interviews will be closed. Each finalist team will be interviewed privately by a panel of judges. Interviews will last approximately 10 minutes.
How do winners collect their grants, and what are the expectations of grant recipients?

Grant payments will be made in two installments: $4500 in March 2016, and $500 in September 2016, pending satisfactory progress. Checks will be payable to a member of the winning team who is a currently-enrolled Wesleyan student (i.e. payments must be made to an individual, not an organization). It is expected that grant money will be spent no later than December 31, 2016.

Winners will also receive mentoring from Patricelli Center staff and volunteers, 24/7 access to the PCSE Board Room, and priority registration for PCSE workshops and events.

Grant recipients will be expected to take full advantage of Patricelli Center programs, submit blog posts, and offer peer advising upon request. 
Who do I contact if I have questions?