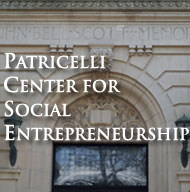 Social Entrepreneurship Resource Center
A library of links and resources. This section is a work in progress. Tell us how to improve it.
Get Acclimated & Get Inspired
Some of the major players in the field. They promote awareness, influence policy, cultivate changemakers, or otherwise promote social entrepreneurship as a way of work and a way of life.
Get Smart & Get Informed
Books, magazines, articles, blogs, and websites to read and follow.
Get Connected & Get Taught
Conferences, classes, institutes, networks, and meetups. Some cost money and others are free.
Get Organized
Tools and templates for mapping out your business model, writing your business plan and pitch, and tracking data. 
Get Funded
Grants, prizes, fellowships, awards, crowdfunding platforms, early-stage startup VC's, and other sources of money for social impact. Some are focused on a specific sector (e.g. the environment, tech, public policy, developing countries, etc.), and some are not limited to social ventures. 
Get Hired
Job boards for people who want to work in a field of social change.
*Wesleyan links