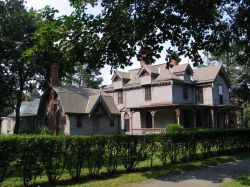 202 Washington Street
202 Washington Street is home to a community based living option and a program house: Recess House and Full House.
Recess House  
Recess House is for student groups who historically have remained on campus during school breaks, including low income, first generation and international students, for reasons of employment or the costs or time related to travel.  Residents benefit from not feeling isolated during times when there are few students on campus, having use of the large kitchen and common spaces that are shared with Full House, and being connected to supportive resources on campus.
Full House
Full House allows members of the Wesleyan community to indulge their inner food junkie with a variety of events and tastings.  The goals of Full House are to provide a place for Wesleyan students who enjoy cooking to meet and learn from each other, cook together, and live together; to further educate the Wesleyan community on different types of cuisine from a plethora of cultures; and incorporate the greater Middletown community in culinary endeavors.  Basically, Full House is a place for bakers, shakers and everything in between. 
Lead Paint Disclosure
Housing built before 1978 may contain lead-based paint. Lead from paint, paint chips, and dust can pose health hazards if not taken care of properly. Lead exposure is especially harmful to young children and pregnant women. Before renting pre-1978 housing, landlords must disclose the presence of known lead-based paint and lead-based paint hazards in the dwelling. Tenants must also receive a Federally approved pamphlet on lead poisoning prevention. The pamphlet may be viewed at: http://www.hud.gov/offices/lead/library/enforcement/pyf_eng.pdf. The University recognizes that any housing built prior to 1978 may contain lead-based paint and/or lead-based paint hazards. By accepting your housing contract, you are affirming that you have reviewed the pamphlet Protect Your Family from Lead In Your Home.
All Wesleyan housing was built before 1978 with the exception of the following: Bennet Hall, Fauver Apartments, 19 Fountain Avenue, 20 Fountain Avenue, 25 Fountain Avenue, 231 Pine Street, and 14 Warren Street.
Lead Paint Reports for 202 Washington Street
---
Floor Plans
---
Applications