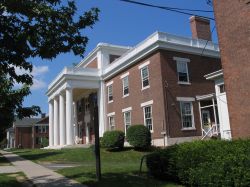 200 High Street
Eclectic is a coeducational society of resident and associate members committed to the promotion of independent thinking and creative expression.  We strive to continue the storied tradition of the Society of the past, both recent and further removed, through our dedication to intellectual and artistic achievement.  Our members plan, host, and staff a variety of events that aim to instill a stronger sense of community among Wesleyan students and faculty.  Eclectic's artistic endeavors, be they those of individual members or the collective, meld the depth of academia with the freedom and ingenuity of youthful expression in order to provide a safe and exciting space for certain students who may not find themselves elsewhere on campus.  These endeavors – including but not limited to visual art, music, and film – are central to the Society's role as a campus venue.  Eclectic's members are also committed to the preservation of the architectural and structural integrity of Eclectic House, which is listed on the National and Connecticut Registers of Historic Places, and to the prevention of activities that are likely to impair the house's integrity.  The Eclectic Society affirms this mission in tandem with the evolving passions and interests of its members.
Lead Paint Disclosure
Housing built before 1978 may contain lead-based paint. Lead from paint, paint chips, and dust can pose health hazards if not taken care of properly. Lead exposure is especially harmful to young children and pregnant women. Before renting pre-1978 housing, landlords must disclose the presence of known lead-based paint and lead-based paint hazards in the dwelling. Tenants must also receive a Federally approved pamphlet on lead poisoning prevention. The pamphlet may be viewed at: http://www.hud.gov/offices/lead/library/enforcement/pyf_eng.pdf. The University recognizes that any housing built prior to 1978 may contain lead-based paint and/or lead-based paint hazards. By accepting your housing contract, you are affirming that you have reviewed the pamphlet Protect Your Family from Lead In Your Home.
All Wesleyan housing was built before 1978 with the exception of the following: Bennet Hall, Fauver Apartments, 19 Fountain Avenue, 20 Fountain Avenue, 25 Fountain Avenue, 231 Pine Street, and 14 Warren Street.
Lead Paint Reports for 200 High Street
---
Floor Plans
---
Applications