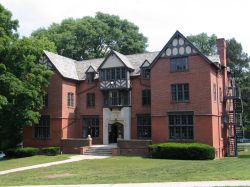 Click here for more photos
Through the continued work of dedicated students, 200 Church Street was established as housing for students who wish to build a safe, self-affirming, energetic, and close-knit community that focuses on social justice and diversity.  200 Church provides a unique housing experience for first and second year students to inspire and support each other.  In addition to first-year orientations and social programming, the residents of 200 Church have the freedom and support to develop programs that explore their unique and intersecting struggles and identities.  Residents actively address racism and other forms of oppression, working to educate themselves and the larger Wesleyan community.  House programs can include discussions, films, guest speakers, and community service activities.  200 Church Street is a safe and relaxing space for residents and other students to socialize and organize in an inclusive, diverse and empowering environment.  200 Church boasts two lounges, a kitchen, a laundry facility, and a pool table.
 Applications are not necessary for incoming first year students.
Booking the 200 Church Lounge
Please note: event requests must be submitted the Sunday prior to the event. The 200 Church Unit Council reviews EMS requests every Sunday at 9pm and if a request is submitted after the deadline, it will not be approved.  You are welcome and encouraged to attend 200 Church Unit Council meetings to explain the details of your event.  Your attendance is not required and if you are unable or do not plan to attend the meeting, please send a brief description of what your event entails to help in our decision making process.
Lead Paint Disclosure
Housing built before 1978 may contain lead-based paint. Lead from paint, paint chips, and dust can pose health hazards if not taken care of properly. Lead exposure is especially harmful to young children and pregnant women. Before renting pre-1978 housing, landlords must disclose the presence of known lead-based paint and lead-based paint hazards in the dwelling. Tenants must also receive a Federally approved pamphlet on lead poisoning prevention. The pamphlet may be viewed at: http://www.hud.gov/offices/lead/library/enforcement/pyf_eng.pdf. The University recognizes that any housing built prior to 1978 may contain lead-based paint and/or lead-based paint hazards. By accepting your housing contract, you are affirming that you have reviewed the pamphlet Protect Your Family from Lead In Your Home.
All Wesleyan housing was built before 1978 with the exception of the following: Bennet Hall, Fauver Apartments, 19 Fountain Avenue, 20 Fountain Avenue, 25 Fountain Avenue, 231 Pine Street, and 14 Warren Street.
Lead Paint Reports for 200 Church Street
---
Floor Plans
---
Applications