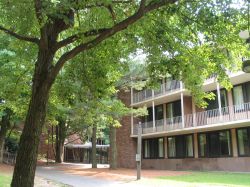 Click here for more photos
Nicolson 6 is home to both first-year and upper-class students living together in the hall community. Most first-year student live in double rooms; single rooms house most upper-class students. There is access to a community kitchen, study lounges, social lounges and performance space.  The complex overlooks Foss Hill, a grassy scenic spot for lounging and socializing.
Film Hall - Nicolson 6 - lower level
Film Hall is a creative environment for filmmakers and film lovers to live and work together, and use their shared knowledge and interest to further both their film and academic careers. Through this hall, film enthusiasts build strong friendships, produce high-quality student films, hold study groups for film classes, and share their love of films with the student body. Film Hall constructs a living and learning environment that brings together students with this shared interest and helps foster their talents and personal growth.
Lead Paint Disclosure
Housing built before 1978 may contain lead-based paint. Lead from paint, paint chips, and dust can pose health hazards if not taken care of properly. Lead exposure is especially harmful to young children and pregnant women. Before renting pre-1978 housing, landlords must disclose the presence of known lead-based paint and lead-based paint hazards in the dwelling. Tenants must also receive a Federally approved pamphlet on lead poisoning prevention. The pamphlet may be viewed at: http://www.hud.gov/offices/lead/library/enforcement/pyf_eng.pdf. The University recognizes that any housing built prior to 1978 may contain lead-based paint and/or lead-based paint hazards. By accepting your housing contract, you are affirming that you have reviewed the pamphlet Protect Your Family from Lead In Your Home.
All Wesleyan housing was built before 1978 with the exception of the following: Bennet Hall, Fauver Apartments, 19 Fountain Avenue, 20 Fountain Avenue, 25 Fountain Avenue, 231 Pine Street, and 14 Warren Street.
---
Floor Plans
---
Applications