Pre-College Study
Pre-College students will reside at 200 Church Street, right in the heart of the Wesleyan campus. Built in 1927, 200 Church has several large, open lounges on the first floor and lots of charm. Amenities include laundry facilities, a kitchen, and a pool table. The building is a short walk from most classes as well as the campus center and dining hall.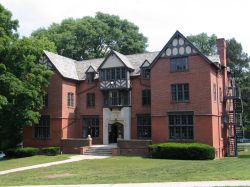 Important Information
To qualify for on-campus housing, Pre-College participants must provide proof of compliance with the State of Connecticut immunization requirements.
The same University policies that apply during the academic year are in effect during the summer term. Students are expected to comply with the terms of the Summer Housing Contract, the Code of Non-Academic Conduct and Pre-College Student handbook.  To view a copy of the Summer Housing Contract please click here.
Pre-College Summer Session Dates 
Sunday, June 29, 2014 - Thursday, July 31, 2014
Pre-College Summer Session Residential Fee
The Residential Comprehensive Fee is $2,949.  This fee includes room, full board, RA support, and weekend and evening activities. The Residential Advisors (RAs), will be current Wesleyan undergraduates.  The RAs will live in the residence hall and will organize various activities for the students. The Resident Advisors will assist with weekend and evening activities, which may include trips to places like Six Flags, New York City, and Connecticut beaches, as well as local activities such as bowling, wii tournaments, and movie nights.
Dining
Usdan Market Place, located on the second floor of the Usdan University Center, will be open to students for breakfasts, lunches, and dinners Monday through Friday, and for brunches and dinners on weekends. 
Application Process
Pre-College students have to pay in full by check or money order payable to Wesleyan University
Application information can be found on the Pre-College Study website. Send the completed application and payment to:
Wesleyan Summer Session, 74 Wyllis Avenue, Middletown, CT 06459
Pre-College Housing Request forms are accepted on a rolling basis , however the priority deadline is June 2, 2014. Applications for Pre-College Summer Session will not be accepted after June 25, 2014.