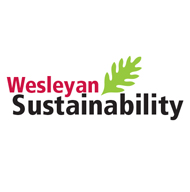 Meet the Sustainability Office
Wesleyan University has been involved in sustainability efforts since the 1980s, when it began a recycling program.  The SAGES committee has strengthened Wesleyan's sustainability efforts through the creation of a climate action plan and numerous projects and programs.  With the creation of the Sustainability Office in 2012, Wesleyan has further demonstrated its commitment to promoting true sustainability.
Sustainability Coordinator

Jen Kleindienst began as Wesleyan's first Sustainability Coordinator in July 2012. Jen is passionate about building a more sustainable world and is very excited to put ideas into action on the Wesleyan campus. She works to coordinate sustainability efforts between students, faculty, staff, and administrators, and create new programs to foster sustainable thinking and acting. Before coming to Wesleyan, Jen worked in the sustainability offices at Tufts University, St. Michael's College, and MIT. Jen holds an M.S. in Environmental Studies from Antioch University New England and a B.A. from Hamilton College.

 

Sustainability Interns

Zach Burns '14
Residential Composting Program

Zach is a philosophy major exploring ethical conundrums in genetic enhancement for his senior thesis.  Through the compost program, he has been fascinated to learn about the inner-workings of waste management at Wesleyan.  He is proud of the University's green initiatives and is eager to see a near-future Wesleyan with absolutely minimal garbage production and robust compost and recycling programs.

 

DeNeile Cooper '15
Residential Composting Program

DeNeile Cooper is an Anthropology major and Environmental Studies double major. She is a member of WILD (Working for Intelligent Landscape Design) Wes, WesBAM!, and Collective Motion Dance Group. DeNeile is interested in exploring the social intersection of culture and environmental awareness while also developing a deeper understanding of the science involved in environmentally-friendly practices.

Zach Kaufman '16
Dining Composting Program

Bio and photo coming soon!


Rina Kremer '15
Dining Composting Program

Bio and photo coming soon!

Ari Lewenstein '16
Do It in the Dark Program


Bio and photo coming soon!


 

Rachael Metz '16
Eco Facilitators Program

Bio and photo coming soon!

Isabel Stern '14
Waste Not and Do It in the Dark Programs

Bio and photo coming soon!