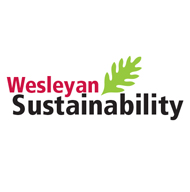 Information on our sustainability initiatives
Wesleyan tracks our sustainability progress in several ways.  We complete annual greenhouse gas inventories, have completed a Climate Action Plan, and did a STARS evaluation in 2013.
Greenhouse Gas Inventories (2008-2014)
Visit the ACUPCC reporting website and click on the GHG Reports link or view a chart of GHG emissions.  Information includes:
square footage included in GHG inventory;
electricity use;
heating fuel use;
fuel used by campus vehicles (fleet);
commuting estimates of faculty/staff and students;
total waste and compost generated; and
agricultural information (fertilizer use).
Climate Action Plan (2010, revised 2012, Sustainability Action Plan coming Fall 2015)
View the 2010 Plan and 2012 revision.  Information includes:
Goals and strategies relating to academics, energy, facilities, transportation, waste, and Wesleyan's sustainability vision
STARS
View our
2013 STARS Scorecard
and
2014 STARS Report
.  STARS provides qualitative and quantitative information on Wesleyan's sustainability progress in the areas of:
Curriculum, research, engagement, buildings, climate, dining, energy, grounds, purchasing, transportation, waste, water, planning, diversity/affordability, human resources, and investment
For other requests, please email Jen Kleindienst.