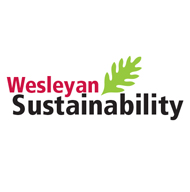 Climate Action
In 2007, President Michael S. Roth enthusiastically signed the American College and University Presidents' Climate Commitment, which committed Wesleyan to climate neutrality by 2050.   As part of this agreement, Wesleyan has:
Completed yearly greenhouse gas inventories since 2008. 
The Sustainability Advisory Group (SAGES) published the first Climate Action Plan (CAP) in 2010, and revised it in 2012.  SAGES has begun work on the next version of the CAP, which will develop short-, mid-, and long-term goals and actions to move Wesleyan toward neutrality.  A Climate Action Plan should:


establish goals, targets and actions that lead toward neutrality,
make sustainability and climate neutrality a part of the curriculum and educational experience for all students,
expandsresearch on climate neutrality, and
track progress on goals and actions. 
View a presentation of greenhouse gases and climate action planning to learn more about our progress.