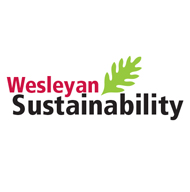 Personal Sustainability Commitment
Members of Wesleyan's Environmental Organizers' Network, in conjunction with the Sustainability Advisory Group (SAGES), developed the Wesleyan Personal Sustainability Commitment.  This commitment is an individual sustainability pledge, accessible through the employee and student electronic portfolio, that all members of the Wesleyan community are encouraged to sign.
This commitment suggests eleven small actions that individuals can take to collectively make a difference and asks the entire Wesleyan community to commit to at least five of these actions. You can revise your commitment at any time through Portfolio.  
Employees: "Personal Information," upper left side
Students: My Student Portfolio, in "Student Life at Wesleyan"
For more ideas about how to reduce your personal impact on the environment, visit our Suggested Actions page.