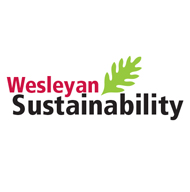 Sustainability Action Planning Workshop
The Sustainability Office and Sustainability Advisory Group (SAGES) hosted a workshop to brainstorm and develop creative new ideas for Wesleyan's next Sustainability Action Plan on Friday, February 21, 2014 .  A schedule is as follows:
12:00-12:15         Introduction by President Roth
12:15-12:45         Lunch (provided) and workshop overview by Jen Kleindienst and Bill Nelligan
12:45-1:45           Brainstorming (small groups)
1:45-2:00             Break
2:00-3:30             Developing ideas in-depth (small groups)
3:30-3:45             Break
3:45-4:45             Presentations (5 minutes per group)
4:45-5:00             Wrap-up and next steps
Most of the workshop was spent working in small groups, focused on the following areas, which correspond to sections of the proposed plan:
| | |
| --- | --- |
| Working Groups | Focus |
| Buildings and Grounds | Improving sustainability of new and existing buildings |
| Dining and Food | Increasing sustainable food and beverage purchases, reducing waste, and using sustainable products |
| Diversity, Equity, Inclusion, and Affordability | Increasing diversity, inclusion, and equity on campus and making Wesleyan education affordable |
| Education and Research | Integrating sustainability into curriculum and research |
| Energy | Conserving energy, improving efficiency, and increasing the use of renewable energy |
| Engagement (Campus and Community) | Expanding and improving extra-curricular sustainability learning experiences and giving back to the community |
| Grounds | Improving grounds maintenance practices and increasing sustainable plantings and hardscapes |
| Health and Well-Being | Improving the health and well-being of the Wesleyan community |
| Planning | Institutionalizing campus sustainability policies and practices |
| Purchasing | Increasing sustainable purchases and companies that support sustainability |
| Transportation | Decreasing single-person vehicle travel, increasing the use of alternative transportation, and decreasing air travel |
| Waste | Increasing waste reduction, reuse, and recycling |
| Water | Reducing campus water usage |
Results
The results of this workshop will be used to inform the creation of new goals and strategies for Wesleyan's Sustainablity Action Plan.  To learn more or to get involved, contact Jen Kleindienst.