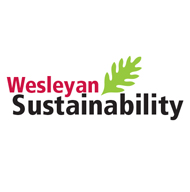 Dining and Food Initiatives
We've Done It
Bon Appétit Management Company, Wesleyan's dining service, has a corporate commitment to sustainability that is evident at Wesleyan. All meals on campus are cooked from scratch. Bon Appétit's Farm to Fork program is a company-wide initiative that requires each of Bon Appétit's 500 cafés across the country to purchase at least 20% of their ingredients from small, local, owner-operated vendors and farmers within a 150-mile radius of campus. In addition:

All coffee is organic, fair trade, and kosher.
All liquid and shell eggs are cage free and are Certified Humane.
All poultry is antibiotic and hormone free.
All seafood meets Monterey Bay Seafood Watch's "Best Choices" standards.  All tuna is purchased from companies that do not use destructive trawl fishing methods.
All milk is RBST-free and purchased from Ronnybrook Farm, a local dairy run by Wesleyan alumni that uses ecologically sound and humane practices.
All bacon is purchased from farms that do not use gestation crates.
Most ground beef purchases are from New England farms, which use ecologically sound and humane practices.
About 20% of pork purchases are done through the farm-to-fork program, which use ecologically sound and humane practices.  All pork is gestation crate-free.

In 2012, following the lead of students, President Michael Roth signed the Real Food Campus Commitment. This nationwide commitment pledges colleges and universities to buy 20% real food, defined as "local/community-based, fair, ecologically sound, and/or humane" by 2020. The commitment aims to get colleges and universities to use their purchasing power to support a healthy food system that strengthens local economies, respects human rights, ensures ecological sustainability, and facilitates community involvement and education.
Bon Appétit's Eco-to-Go Program is available at Usdan and Summerfields dining halls. Students who wish to join the program pay a one-time 5 point fee to buy-in. Participants get an Eco-to-Go key chain when they sign up; this key chain can get swapped for a reusable container after a meal. When students bring back containers to be washed by Bon Appetit staff, they have the opportunity to get a new container or a key chain to use at their next visit. About 400-500 students participate in the program each year.  Starting in 2014, all members of the Class of 2018 received free Eco-to-Go containers through a pilot program to increase participation.  This program will continue in 2015.
Wesleyan promotes vegan options at meals, offers meatless main entrees, and labels its vegan and vegetarian options.  The vegan program serves entirely organic produce, dry herbs, and rice.  In 2012, Wesleyan won PETA's "Most Vegan-Friendly College" Contest for its variety and availability of vegan options and has consistently received an "A" rating.  
Student-run Long Lane Organic Farm uses ecological farming practices to produce food for the Wesleyan University Campus as well as the broader Middletown community. In addition to serving an important nutritional role in the local area, Long Lane is committed to providing the community with opportunities for festive gatherings and open exchanges, farm and food education, and hopes to contribute collaboratively to thought and practice at the nexus of culture and agriculture in general. Long Lane is in its second year of operating an unheated greenhouse, where greens can be grown in the winter months, and tomatoes, peppers, squashes and eggplants can flourish in the summer.
The student-run Wesleyan Local Food Co-op sources a large variety of fresh local foods (including Long Lane Farm produce) and distributes them on campus, much as a CSA would.  Besides produce, the Co-op distributes fresh dairy products (milk, cheese, yogurt, ice cream, and butter), meat, eggs, tofu, seitan, granola, jam, bread, and coffee, all locally made (or roasted, in the case of coffee). The program began solely for students but is now open to staff and faculty participation in the wake of expressed interest.  Over 500 members of the Wesleyan community are part of one or more co-ops.  
Pre- and post-consumer composting is collected daily from Usdan and Summerfields dining halls.  Each year, 17 tons of pre-consumer food scraps are sent to Long Lane Farm, and 20 tons of post-consumer scraps are sent to Greencycle in Ellington, CT for composting.
Wesleyan has joined EPA's Food Recovery Challenge to evaluate and reduce its food waste in Usdan dining hall.
No trays are used in any dining halls.
Student volunteers in the Food Rescue Program collect food that is normally wasted from Pi Cafe, Summerfields and Usdan and take it to Eddy Shelter, an emergency shelter about 5 minutes from campus. Students also organize, prepare and participate in community dinners at the shelter.
Through Bread Salvage, students pick up unsold bread products from Freihofer's Bread Company and deliver them to two schools in Middletown each week.
Bon Appétit operates a reusable mug program, which gives students and employees a 10 cent discount on a cup of coffee at Pi Café and Usdan Café.  Anyone who purchases a Wesleyan reusable mug in the Cardinal Technology Store gets a 10% discount on the mug and on any cup of coffee they purchase on campus using the mug.  Long Lane Farm receives $1 of the proceeds from each mug sold. 
Espwesso is a student-run cafe with sustainability embedded in its mission: inspiring a shift in coffee consumption towards more sustainable and tastier coffees. Espwesso serves direct-source coffees and teas, which allows coffee roasters to work with growers to ensure that best practices are used in terms of both sustainability and taste. All Espwesso labor is work-study. Espwesso is entirely financially sustainable, operating exclusively on student "donations" to cover costs. Any surplus revenue is invested in expanded offerings or lowering costs. While revenue is not sufficient to cover the cost of recycled napkins, cups, or other eco-friendly paper products, Espwesso encourages all customers to bring their own mugs by implementing a 25 cent requested donation on paper cups for drip coffee. Espwesso is currently investigating selling ceramic mugs to students to further reduce the use of paper products.
Each fall, Bon Appetit sponsors an Eat Local Challenge Day for the campus.  Dining Services and several local vendors provide a buffet-style meal made entirely from local ingredients harvested within 150 miles of the University.
In 2013, the College of the Environment Think Tank put Eco-Labels on sandwiches at Weshop, Pi and Usdan Cafes to increase awareness in the Wesleyan community of the carbon impact of eating different meat and vegetarian options.
During 2014 Reunion and Commencement at the All-College Picnic, Bon Appetit trialed a buffet-style lunch with reusable lunch bag instead of boxed lunches, which had been used in the past.  This decreased food waste and overall waste significantly and was a success and will continue in 2015.
Send suggestions for dining initiatives to Bon Appetit Resident District Manager Michael Strumpf.