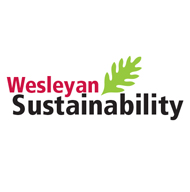 Energy Initiatives: Conservation, Efficiency, and Renewable Energy
We've Done It
View a presentation of Wesleyan's major energy accomplishements here!
 

Initiatives

1
Energy management system monitors and manages energy consumption.

Able to load shed on command 1.4 Megawatts which earns approx. $100,000 in annual energy credits
Load sheds regularly to manage energy
Reduced kW consumption from 4.5 megawatts in 2002 to 3.5 megawatts in 2006 even with new buildings being brought on line, through conservation, load shedding and Power Plant management
Through conservation reduced 2005/2006 electrical consumption by 4.5%
Completed more than 29 energy management projects in 3 years with average return on investment of 1.8 years
Total costs = $641,000
Rebates = $136,000
Annual energy savings ≈ $275,000

2
In Spring 2008, Wesleyan purchased 2,000 compact fluorescent light bulbs (CFLs) and several students traveled to the dormitories on campus replacing incandescent bulbs with the new, energy-saving bulbs. Thanks to Josh Wood '10 and Miles Bukiet '11 for taking the initiative.
3
Senior woodframe houses are engaged in the Do It in the Dark Energy Competition! The competition compares and ranks monthly energy usage between houses and the winning houses receive a gift certificate to a local restaurant. The program was initiated by EON and is now maintained by the Sustainability Office Interns.
4
Installed 3 kW of photovoltaic (PV) solar panel system on the Office of Admissions in 2009. View a dashboard of its production here.

5
A 2.4 MW natural gas cogeneration facility was completed in 2009.  Compared to grid power, it reduces greenhouse gas emissions by the equivalent of 1290 cars from New England Highways or by planting 2064 acres of forest.  Click here for a presentation on this facility.

6
Installed an 8 kW PV system on 19 Fountain Avenue in 2010.
7
Lantern Energy has completed all of Wesleyan's home energy audits for both residences and administrative offices located in former houses. 100 privately owned houses for Wesleyan's faculty and staff also took advantage of this wonderful program.  Lantern Energy has been approved by United Illuminating and Connecticut Light & Power to provide home energy assessments and the installation of energy efficient measures for homeowners through the Home Energy Solutions (HES) program, one of several innovative solutions offered by the Connecticut Energy Efficiency Fund (CEEF).
8
Installed a 200kW PV array on Freeman Athletic Center roof and parking lot in January 2012.
We're Working On It
Listed below are current energy projects Wesleyan is working on.
| | | |
| --- | --- | --- |
|   | Initiatives | Status |
| 1 | Wesleyan is proposing a second natural gas cogeneration plant (676 kW) at Freeman Athletic Center.  Click here to learn about the energy options Wesleyan has explored and the cogeneration plant proposal. |   |
We've Investigated It
Listed below are energy projects Wesleyan has investigated but has determined not feasible at this time.
| | | |
| --- | --- | --- |
|   | Initiatives | Status |
| 1 | GZA GeoEnvironmental proposed several geothermal sites across campus.  Click here for the geothermal feasibility study.  |   Not feasible at this time. |