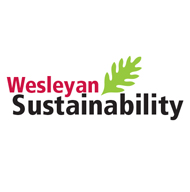 Energy Initiatives: Conservation, Efficiency, and Renewables
We've Done It
View a presentation of Wesleyan's major energy accomplishments here!
 

Initiatives

1
Wesleyan opened its second natural gas cogeneration plant (676 kW) at Freeman Athletic Center in February 2014.  Click here to learn about the energy options Wesleyan explored and the cogeneration plant details.
2

By the end of FY 2014, Wesleyan completed over 300 energy conservation and efficiency projects that significantly reduce energy consumption.  A list of Phase 1-5 projects is here; Facilities is currently implementing projects for Phase 8.

3
The newly renovated dance studio at 160 Cross Street has 100% LED lighting.
4
In Fall 2013, Wesleyan began purchasing B20 biofuel (80% #2 oil, 20% recycled cooking oil) from Portland-based Hale Hill Biofuels for campus buildings run on oil.  Biofuel replaces nearly all Wesleyan's oil purchases and is expected to reduce greenhouse gas emissions by 200 tons annually.
5

In January 2012, Wesleyan installed a 200 kW solar photovoltaic (PV) array on the Freeman Athletic Center roof and parking lot.  View a dashboard of its production.

6
From 2010 to 2012, ITS worked with Verdiem, a power management company, to analyze PC energy consumption to find opportunities for energy savings.  Based on Verdiem's findings, Wesleyan will save over $15,000 annually.  For more information, visit our Power Management page.
7
In 2010, Wesleyan installed an 8 kW PV system at 19 Fountain Avenue.
8
Lantern Energy completed home energy assessments for all of Wesleyan's woodframe residences and administrative offices located in former houses. 100 privately owned houses for Wesleyan's faculty and staff also took advantage of this program.  These assessments were part of the ongoing Home Energy Solutions (HES) program, one of several innovative solutions offered by Energize Connecticut.
9
A 2.4 MW natural gas cogeneration facility was completed in 2009.  Click here for a presentation on this facility.
10
In 2009, Wesleyan installed a 3 kW PV system on the Office of Admissions. View a dashboard of its production.
11

Senior woodframe houses have been engaged in the annual Do It in the Dark energy competition since 2008.  DIITD compares and ranks woodframe and program house energy usage, awarding houses that have reduced energy consumption by the largest margin compared to past residents.  The fall competition covers October and November, while the spring competition, "28 Days, 28 Ways to Save," will be held each February.  In the fall, the winning woodframe house will receive a $150 gift certificate to a local restaurant and winning Program House will earn $100 to spend on something for their house.  DIITD was initiated by the Environmental Organizers Network (EON) and is now run by the Sustainability Office Interns. 

In the 2013-4 school year, DIITD is partnering with Wes to Wes, a student group that is raising money in innovative ways for financial aid.  This year, all energy savings in student residences will go to financial aid.

12
In Spring 2008, Wesleyan purchased 2,000 compact fluorescent light bulbs (CFLs) and several students traveled to the dormitories on campus replacing incandescent bulbs with the new, energy-saving bulbs.
13
An energy management system monitors and manages energy consumption.  Most buildings are equipped with the capability to set back temperatures at night and on weekends. 
14
Wesleyan has installed passive infrared occupancy sensors in nearly every building on campus.  Photo/occupancy sensors, which sense both movement and ambient light, have been installed in Foss Hill dorms 5, 6, and 7 and will be installed, along with new LED lighting, in all other Foss Hill dorms in Summer 2014.  Additional photo/occupancy sensors will be installed in additional common areas and stairwells where light levels and building traffic is appropriate. 
15
LEDs are used in about 50% of parking and outdoor lighting, as well as lighting in many areas of Usdan, Freeman, and the CFA. 
16
Most vending machines have passive infrared sensors to reduce consumption.
We're Working On It
| | |
| --- | --- |
|   | Initiatives |
| 1 | The Sustainability Office and Energy subcommittee are pursuing strategies to decrease energy usage via behavior change. |
We've Investigated It
Listed below are energy projects Wesleyan has investigated but has determined not feasible at this time.
| | |
| --- | --- |
|   | Initiatives |
| 1 | In 2011, GZA GeoEnvironmental proposed several geothermal sites across campus.  While geothermal is a geologically feasible option, it is not financially feasible at this time. Click here for the geothermal feasibility study.  |
| 2 | In 2015, Wesleyan investigated the feasibility of covering window air conditioner units each winter.  The costs of this proposed project were much higher than anticipated, so is not feasible at this time.  Given staffing constraints, it is also not feasible at this time for Physical Plant employees to remove and store all office window air conditioners each winter. |